Ben Thompson, AuD.
Hello everyone, this is Dr. Ben Thompson here for another podcast episode. Today, I am with an audiologist, a colleague of mine, Rachael Cook, who is an audiologist in Phoenix, Arizona, and originally from California. We're going to talk about TMJ, tinnitus, stress-induced tinnitus, noise-induced hearing and tinnitus issues. Dr. Cook, please take it away. Tell us your story of tinnitus.
Rachael Cook, AuD.
Awesome. Thank you. Thank you for having me and reaching out and asking be on the podcast with you. So I started experiencing tinnitus probably right around six or seven years ago, I would think. Probably shortly after high school ended, and it started, I think, as the same as it does for most people of just a tiny little like, "What is that?" in the quietest of environments And over time, it just started to increase and increase and increase. And at the time, I was just barely starting my audiology coursework. I actually thought that I was going to be a speech language pathologist and then started transferring over to the audiology side of things once I started experiencing my own tinnitus and started learning more and more about it. And for a while, that was really bad for my tinnitus because I was so focused on it all the time. And then over time, I started learning about things like "Progressive Tinnitus Management" and TRT, and really just a lot of, kind of, I guess, not as spoken about ways to manage tinnitus as well and found some pretty good things that work for me, including the use of some ear level sound generators, too. So it's been an interesting journey to be the provider and the patient at the same time, but helpful in that respect for sure.
Ben Thompson, AuD.
And what were your levels of tinnitus, right? When we quantify it, there's some questionnaires that in the clinic we may use. But real world, quick and dirty, I find that just what were your tinnitus levels from 1, very, very soft, to 10, very, very loud. 1 to 10, how did that fluctuate over the years for you and how long have you had what you would consider bothersome or loud tinnitus?
Rachael Cook, AuD.
That's a great question. So I started the tinnitus out, probably I'd say about a 2 out of 10, right? I could notice it, but with enough distraction going on around, eh, not so much. Then when I started grad school, I feel like it really started to kick up. And, you had said earlier, a noise-induced event, and I had gone to Coachella in 2017 and I was extremely close to the loudspeakers, very close to the stage, no hearing protection just really went for it. And it was really after that event, honestly, that I watched it go from a 2 to more like a 4.
"Treble Health helped me reduce my tinnitus by about 80%, and now I can live my life again!"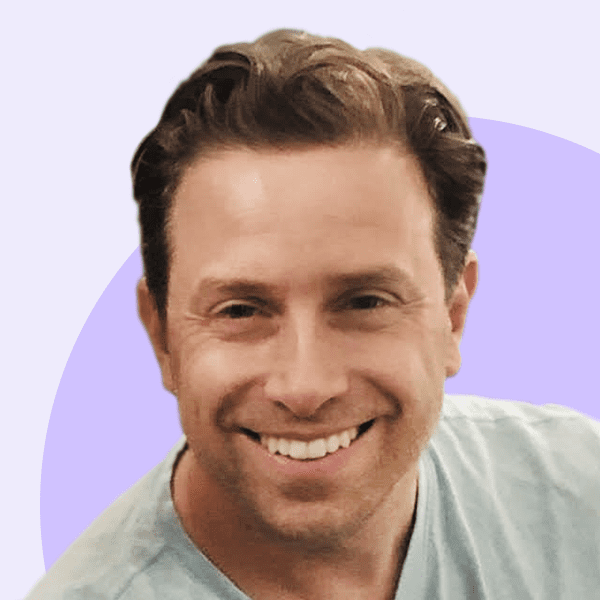 "Treble Health helped me reduce my tinnitus by about 80%, and now I can live my life again!"
Looking For Tinnitus Relief? Call Now To Schedule Your FREE Consultation With A Doctor!
And, you know, a four doesn't seem too bad on a scale of 1 to 10, but when you're having it all day, every day, you know, in a lot of different environments, that can be pretty bothersome. And so now that I have a handle on it, definitely much more, I'll have days where it'll be a six, but I'll have days where it'll be a zero and I'll search for it and search for it and search for it and can't find it at all. And so I would say we're definitely leaning more towards getting it back down to the 0, the 1, and the 2 range, which has been very, very welcomed change and is really just proof that even when you have those bad tinnitus days, they don't always have to be that bad.
Ben Thompson, AuD.
What I want to bring up is that you work with ENT doctors, ENT physicians, those are our colleagues, and on another podcast episode, I interviewed an ENT physician out of Europe who had spent their career researching the different causes of tinnitus and they determined that 80% of tinnitus cases fall into these three categories, either TMJ, somatosensory, neck related, number one, number two, cochlear hearing loss related, or number three, we can simplify and call it stress-induced. Sometimes it's a combination of those three factors, but that makes up the majority of cases and it's important to accurately diagnose, okay, which subgroup are they in or which multiple factors are the individual in so we can help them accordingly. You now work with the ENT physicians. You may have had some of those subgroups happen to you in your own history. Let's start with asking, which of those apply to you and have you found tools or techniques to manage those different elements?
Rachael Cook, AuD.
So I would think that I'm probably impacted by all three of them, honestly. I do believe that I have some TMJ issues. They haven't really been diagnosed, but I do know that I get quite a good amount of stress intention in my jaw as many people do and we see it in the office all the time here. We really do. Almost every time if we can't find the source of what we think that the tinnitus is related to, we'll ask, you know, "Oh yeah, so talk to me about your jaw." And they're like, "Oh, terrible TMJ." And we both immediately go, "Oh, okay." I would also say that we've got the cochlear-induced and I do think that I've had a significant amount of noise exposure in my days when I didn't know better, and so that definitely contributed to it as well. My audiogram is normal. I do have a pretty obvious little dip down at 3K and it does jump back up. So you see that there as well. And then lastly, the stress-induced-
Ben Thompson, AuD.
I'm sorry. Just to clarify for our listeners. So you have a slight or mild high pitch hearing loss, right?
Rachael Cook, AuD.
Yes. Sorry. So it's right on the border. It's right at 25. So it's in between that normal-mild borderline.
Ben Thompson, AuD.
It's very common for a lot of people who have bothersome tinnitus, have slight hearing loss, and are told, "Oh, your tinnitus is from hearing loss."
Rachael Cook, AuD.
Absolutely.
Call To Schedule Your FREE Tinnitus Consultation!
Ben Thompson, AuD.
But something doesn't click there.
Rachael Cook, AuD.
Right.
Ben Thompson, AuD.
Something's off. It's not just hearing loss because the hearing didn't change, but the tinnitus came out of nowhere.
Rachael Cook, AuD.
I will completely agree with that. It's like you're looking at their entire audiogram as a whole, right? And you might have majority of your audiogram or all of your audiogram within a normal range, but that doesn't mean that there hasn't been some sort of damage to the hearing organ at some point. So you perform normal, but even then, what does that mean, right? Everyone's different. So yes, you know, it's on the borderline of normal and mild, but I definitely see it in many different aspects of my life, tinnitus, but also just in speech understanding as well, which is a huge point.
Ben Thompson, AuD.
How have you explored the TMJ jaw-neck as well as the stress-induced factors for managing tinnitus?
Rachael Cook, AuD.
So I was speaking with a physical therapist friend and I was asking, "Do you have any like exercises and movements and things that I should be doing with my jaw to try and release some of that tension and pressure?" Did some of those for a while and I don't have any real pain associated with my jaw, so it's difficult to remember to do those things. And I think that's another point. I hope this isn't too tangential, but I think that's another point as well is like, you don't have to have very obvious pain. You don't have to have very obvious tension and you don't have to be uncomfortable for your body to still be telling you that there's discomfort somewhere. So just because you don't think that your jaw is in any sort of pain or in any sort of tension doesn't mean that it's not showing up just in a different way and I think we see that often. So I did work on some of those movements and exercises with muscles and got a night guard. Like the dentist got me one so that I wasn't doing as much compression or as much like chewing and grinding at night as well.
Ben Thompson, AuD.
You've come at this from all angles.
Rachael Cook, AuD.
Yes.
Ben Thompson, AuD.
And what have you found in terms of stress, anxiety, sleep, holistic health? How does that affect the levels of your tinnitus?
Call To Schedule Your FREE Tinnitus Consultation!
Rachael Cook, AuD.
I would say, hands down, that is the most important factor and that might not be the most important factor for everybody but it's the most important factor for me and I think it goes overlooked very, very often. I think if you look at anybody day to day, right, and just do a solid inventory, like how much water did they drink? How much sleep did they get? Did they eat any fruits or vegetables today? Have they exercised recently? All of those things have a huge impact on our body's state of rest, how we handle stress, how we think, how we act, and if those kind of core basic needs aren't being met or they're being met but maybe not met as well as your body would like, it's going to respond. And how does it respond? It normally responds with just this stress reaction? And just even the word stress is difficult because it's so vague, right? Like a lot of people are like, "Well, I'm not that stressed of a person." But stress can present in your body. It can present in your mind. It can present in both interconnected together. And so I think looking at our habits, our daily habits, in terms of sleep, in terms of relaxation, you know, I'm a big fan of just putting on some light music and putting a couple of candles on and honestly, just crocheting for a while. Anything to just kind of wind the brain down because we are just so inundated with information and news, and bad news and good news, and all of these things all day long, it really takes a toll on our mind and it really then takes a toll on her body. And so it's really, really important to look at all of these variables and go, "Okay, am I fueling myself? Am I taking care of myself? Am I getting adequate rest? Am I saying no to things I should say no to for my mental health and for my physical health?" Because if you're not, all of those things are also impacting your tinnitus as well. All of them.
Ben Thompson, AuD.
You're speaking so much wisdom here from personal experience, from your education. The average audiologist tends to come from the lens of hearing test, hearing aids, sound therapy, talk a little about stress, and it sort of stops there.
Rachael Cook, AuD.
Mm-hmm.
Ben Thompson, AuD.
And you're getting into some important details here, which is that take a step back, take a bigger perspective, and ask, "Okay, what can I do in my day to day, week to week that can give 10% gains?" Because I'm sure, as you can imagine, as you know, 10% gains with tinnitus is a big deal. I want to ask you now, what's important for you to share with the tinnitus community. There's a strong community online. There's a strong community here on YouTube. There's online forums that may not be the best place to go. In fact, I would recommend avoiding them after you get the right information. What are your main messages to the tinnitus community from your experience, Rachael?
Rachael Cook, AuD.
I agree as well. There's information from every angle and from every corner and it's going to be really, really important to make sure that the information that you are getting is from a trusted source. When I say a trusted source, I'm just a huge proponent of the "Progressive Tinnitus Management". I did my externship at the VA and so I got a lot of experience with that. And I do think that it works well. And for folks who don't know what that is, it's just a program that's basically… I don't know how to word it. It was put on or funded by the VA in terms of setting up kind of a very distinct game plan of how to best manage tinnitus. And that workbook is available online in a PDF form for free download and it is phenomenal. It's like 126 pages of just questionnaires, questions, graphs. I mean, things that you can just fill out from every angle to really figure out what is my tinnitus, right? 'Cause we just throw these words around. I have tinnitus. Okay. Well, is it even in both ears? Is one louder than the other? Is it high pitch or low pitch? Do you get it all the time or sometimes? And where is it coming from, right? That same TMJ somatosensory? Is it coming from stress? Is it coming from damage within the cochlea? Like all of these things, everyone's tinnitus is so, so different. And so it's really important to first nail down, I guess, what is your own tinnitus look like to you? How is it impacting your day to day? And I think audiologists can, you know… You can do some questionnaires and things like that. But a lot of this work has to be done at home. It has to be done at home and it can be guided by an audiologist that knows a lot about this topic. But you're going to have to put the time in at home as well, to look at these different points of your life that might be impacting your tinnitus and define what does make a noticeable change in your tinnitus and what didn't make any change at all? I will back that up by saying that I do think that some online forums have some really good information.
I think very often as well though, we see someone takes a placebo effect and runs with it, and that's fine because for that person, it worked for them enough for them to tell the whole world and that's great, but it might not work for everybody in that same way. So I definitely like the "Progressive Tinnitus Management" handbook and you can find that just by typing that in Google and downloading it. I would also say that you got to be talking with an audiologist and you got to be talking with an audiologist that feels comfortable talking about tinnitus, because there's definitely a difference there. Some audiologists love it and some hate it.
Call To Schedule Your FREE Tinnitus Consultation!
Ben Thompson, AuD.
And tell us about your experience. Thank you so much. And definitely "Progressive Tinnitus Management" is highly recommended from myself and it's a protocol to follow. Tinnitus retraining therapy, it's a protocol to follow. But they all break down to these basic principles: professional counseling, sound therapy, and a holistic understanding of sleep, stress, and mental health.
Rachael Cook, AuD.
Yep.
Ben Thompson, AuD.
It all breaks down to that. So those principles are the north stars and different protocols are designed to make it as easy as possible to go through that.
Rachael Cook, AuD.
Absolutely.
Ben Thompson, AuD.
Completely agree. Completely agree. Talk to us about ENT doctors, audiologists. Where are those specialists, the most highly educated individuals? What questions should we absolutely ask them? And then where does it sometimes fall short leaving the patient have to figure it out on their own from your experience?
Rachael Cook, AuD.
I think, you know, I'll just talk through what I typically see, which is someone schedules an appointment to come see the ENT because they have tinnitus, right? The ENT looks in their ears, right? There's no fluid, there's nothing obvious that's causing this and so then they come to see me for the hearing test portion. Put them in the booth and they'll either have some level of hearing loss or no hearing loss at all. And when they come out, that's when we talk through the audiogram together. And I think that this is a point like you spoke about earlier. Very often for some audiologists and for some providers, that's the point of "Test looks good. See you later. Everything's normal." But I think at the end of the day, is anyone going to be paying a specialty co-pay to be told that, you know, it's normal and the reason that they booked the appointment. You know, "Oh, our tests said it's normal so it's fine." You're still leaving with that same tinnitus, right? So that is, at that point, you know, we'll walk through the audio gram together. If they're a hearing aid candidate, excellent. That's a perfect segue into hopefully moving forward with some hearing aids and getting them some amplification. If they have no hearing loss, but do have that tinnitus as well, at that point, that is what I would recommend have some definite sound therapy strategies for sure. Kind of talk through them and just get a brief understanding of talk me through your day to day. Talk me about your stress. Of course, we ask the questions of TMJ, muscle tension, and all of these things. And I will generally direct them towards that "Progressive Tinnitus Management" handbook as well, just because as we're working through these questions, it might be something that I need longer time on, but I want them to be able to get started on getting some of the basics down of which side, and how loud, and what tone, and what foods can impact it, right? Things like that. But then hopefully I'll see them back to do kind of more of a tinnitus evaluation, talk a little bit more, figure out if ear level sound generators or even something that they would consider or be open to, and just try to see what strategies are working for them, what strategies are they open to, and what strategies should we kind of move past. And so I do think that ear level sound generators are great treatment or management, but I think that there are other things that you can try first before you get to that level as well in terms of sound therapy and just kind of understanding your tinnitus more.
Call To Schedule Your FREE Tinnitus Consultation!
Ben Thompson, AuD.
Excellent. And how do you feel when you have a patient with bothersome tinnitus after you're living with it? You've gone through ups and downs with it. You've found tools that can manage it, it seems, as your professional working. You're happy. You're positive. So even though you have tinnitus, this isn't bringing you down, right?
Rachael Cook, AuD.
Right.
Ben Thompson, AuD.
Those patients are coming in kind of two questions here. Number one, have you seen an increase in tinnitus during COVID and/or around vaccines? And then question two, are you excited to counsel tinnitus patients because you have the condition?
Rachael Cook, AuD.
Yeah. So question number one, tinnitus with COVID and the COVID-19 vaccine. It's happening. It is happening. I'll just say that. I see it in practice here and personally as well, you know. I got my vaccination and I did notice a difference in my tinnitus. Would that have stopped me from getting vaccinated? No, but it's just something to know. You know, I think also at the same time we see this tinnitus being associated with stress and I think most of the world is in the same boat right now where stress is quite honestly higher than it's ever been, at least collectively. And so I have a little bit of a difficult time differentiating between okay, do I think that this person is having higher tinnitus because they had a severe COVID infection for three weeks, or could their tinnitus be worse because their stress is so high? It's difficult to say, but I will say that in the office and around the office, we do see a lot of patients that have either had COVID or had the COVID vaccine who are noticing tinnitus more so than before. We have plenty of people that come in, who didn't have COVID and don't have the vaccine, and are still noticing an increase in tinnitus. So then that leads more towards, you know, the stress side of things as well. Okay, second question, you said my experience as an audiologist…
Ben Thompson, AuD.
You get to counsel patients who have tinnitus, and instead of you just talking about it from education, you're living it.
Call To Schedule Your FREE Tinnitus Consultation!
Rachael Cook, AuD.
Right. Right. Exactly. And I think that that really does change the delivery method, right? Because at the end of the day, I feel like as a tinnitus sufferer myself, it was really difficult to get my family to understand, to get my friends to understand. When I would get overstimulated in certain situations and my tinnitus would be really, really loud to have to take a step aside from that situation, and then people are like, "What's going on?" Right? But I knew that that loud situation was making my tinnitus worse in that moment. So it is difficult when you're the only one that truly knows what it's like to live with your own ears and to live with your own tinnitus. But I do think that that offers some pretty important counseling advantages to be able to say someone, "I know what you're going through. I experienced what you're experiencing." I'll never be able to say if it's to the same degree that they do, but I can look at them and say, "I'm going to help you, and we're going to get this figured out." And if this is something that my office can't provide, we can get you referred out to an office that can or even to a remote counseling option that someone that is willing to take the time and the energy to work through that counseling with them as well. I think when patients come to me like, "My tinnitus is changing in level," "It's changing in pitch," or "It's changing because of XYZ." To be able to say, "Yup, mine changes all of the time," and knowing what is normal to experience as a tinnitus sufferer and what maybe could be indicating a medical pathology is very important to know when to draw that line. But I think it offers an important perspective and at the end of the day, people just want to know that other people get it and feel what you're going through, and know it and understand it. And so being able to provide medical advice, but on the other side, to be able to provide empathy just as another human being. Right? 'Cause we could use a lot more of that, I think too.
Ben Thompson, AuD.
Thank you so much. This is Dr. Rachael Cook, audiologist. Tell us where patients may find you, who are in your local area.
Rachael Cook, AuD.
I am at North Valley ENT in North Phoenix. I'm at the Glendale location, but we have two locations. And if I start working a little bit harder on putting out some TikToks, you can find me @tiktokhearingdoc, but I only have a few videos right now so come back in a while when I start really, really hitting it harder.
Ben Thompson, AuD.
Amazing. Amazing. You shared so much amazing information for us. I am very appreciative. You came on. I know this video will get over a thousand views easily because many people will relate and find benefit. So thank you again for coming on and for anyone who's listening, make sure you listen to the other episodes to get what you need. And remember there's always help so reach out if you need it.
Rachael Cook, AuD.
Always, always. Thank you so much for having me appreciate it so much.
Ben Thompson, AuD.
You're welcome. Bye-bye.