Cyber Monday.
The Sale Is On.
We have a Cyber Monday discount of $500 off Treble Maskers, the absolute best device for tinnitus relief, plus four tinnitus bonuses. Redeem the offer – pay only $300 today.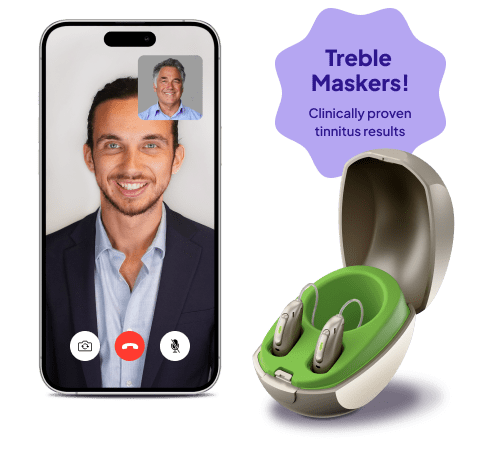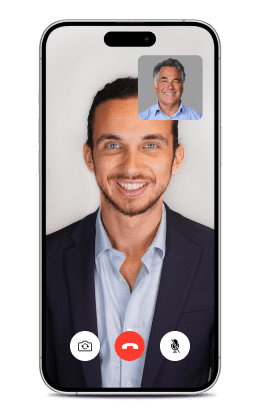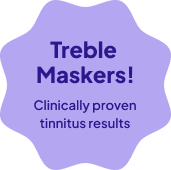 Try Treble for 45 days. If you're not fully satisfied, we'll refund your entire order.
Clinically proven results
0

%
of patients report reduced tinnitus
0

%
of patients showed clinically significant improvements in their tinnitus within six months*
0

%
of patients can have their initial video visit within 3 days of signing up
*This data comes from our 2023 results using the Tinnitus Functional Index (TFI), out of 247 patients.
It's Time To Reduce The Ringing
Is tinnitus affecting your well-being and quality of life? We want to help.
As a thank you to the tinnitus community for supporting Treble Health for the last two years, we're offering a Cyber Monday THANK YOU discount that will last until the evening of Tuesday, November 29th. This will be the largest discount all year.
We're offering a FREE mastermind live course and two extra CBT appointments, along with Treble Maskers tinnitus treatment for the most crazy price ever!
Here is everything you get when you say "YES" to the Cyber Monday Black Friday Deal (Before It Ends)!!
Pair of Treble Maskers – Discreet, behind-the-ear devices that deliver sound therapy to soothe the ears and distract the brain from bothersome tinnitus.
Five total appointments – We'll create a personalized treatment plan and track your progress over time.
Exclusive Tinnitus Masterclass – A one-hour live session of tinnitus coaching and CBT tips with me. Ask your most important questions and I will answer them to give you absolute clarity in your path to recovery from tinnitus.
7-Day Tinnitus Meditation Challenge – The leading meditation series for reducing tinnitus. Listen to over three hours of soothing guided meditations that I created for individuals with intrusive tinnitus.
Treble Tinnitus Group Coaching – Join our tinnitus group coaching live sessions every two weeks, until you don't need help with tinnitus anymore. We meet live on Zoom and all active Treble Health patients are invited.
Treble Tinnitus Group Coaching Recording Vault – 25+ hours of tinnitus group coaching recordings that I have led over the past two years.
For All Of This?
Normally: $3,690
Cyber Monday Price: Only $2,500
This offer will be available through the end of day Monday, so DON'T miss out, as it will only be LIVE for a short period of time. To secure your order, the deposit is $300. Pay only $300 today, and the remaining $2,200 later.
Click here to redeem the offer now – only $300 to get started.
Now many of you may be wondering why I'm including an exclusive tinnitus masterclass course and two extra appointments in this offer. Well I've noticed that when our sound therapy treatment is paired with targeted CBT techniques, our patients have amazing success with treatment.
Hence why I decided to give you an extra mastermind class with me personally for FREE.
And when you join during our Cyber Monday sale, you get four audiology expert video visits, recordings of the 7-Day Tinnitus Meditation Challenge, AND you get VIP access to our tinnitus group coaching program.
You will save $1,190
This offer will not be available for long…
If you're struggling with tinnitus, you need this.
If you've never tried sound therapy treatment with ear-level devices, then YOU REALLY need this.
This offer is LIVE today for Cyber Monday!
Do NOT miss this deal as it will only be available for a short period of time.
Sign up for the Cyber Monday offer – pay only $300 today.
Treble Maskers are discreet, behind-the-ear devices that deliver sound therapy to soothe the ears and distract the brain from bothersome tinnitus. Our patients report feeling a greater sense of control over their tinnitus, with less anxiety and improved quality of life. Our world-class audiologists provide robust support and guidance on how to get the most benefit out of the Treble Maskers, as well as holistically improve tinnitus with strategies for sleep, cognitive behavioral techniques, with the goal of achieving habituation as quickly as possible.
At Treble Health, we've worked with thousands of tinnitus patients, and 85% see improvement within three months when using maskers. Treble Maskers can help you manage your tinnitus and get back to feeling like your true self.
If you book a FREE consultation, we will honor this Cyber Monday offer, even if your consultation is scheduled on a day after the offer expires.
In Good Health,
Ben Thompson, AuD
CEO of Treble Health
Disclaimer: As with any health treatment, no results are guaranteed. Please consult your audiologist or physician if you have questions about your specific case.
Relief From Tinnitus Starts Here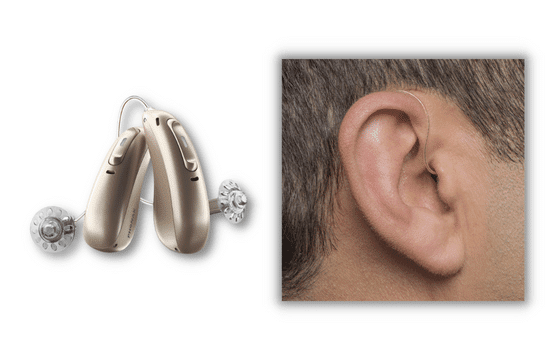 Tinnitus maskers for immediate relief
Reduce your awareness of tinnitus, helping your brain habituate naturally.
A Complete Recovery From Tinnitus Is Possible
Randy lowered his tinnitus working with Treble Health over a three-month time period. He succeeded with our tinnitus program. Now, Randy can fall asleep easily and has no trouble concentrating at his job. Tinnitus doesn't have to be debilitating. 
"The audiologist from Treble Health was the first medical professional that really understood what I was going through, and that it was a real problem…I feel like Treble Health literally gave me my life back. I was questioning my entire future and what it would be like. Now, I don't question that at all."
Why Our Patients Love Treble Health
Tinnitus Relief Starts Here
With consistent use of Treble Maskers, you can reduce your awareness of tinnitus, helping your brain habituate naturally.