Ben Thompson, AuD.
Hello everyone, this is Dr. Ben Thompson here. This is episode 25 of our podcast, and we are here with one of my patients who I've been working with via telehealth for less six months. Their name is John. The purpose, the intention behind this podcast is to give a six-month check-in on John's tinnitus retraining and with that, John, please introduce yourself, tell us who you are, where you live, what you do for work, and then we'll get started on giving some context around your history.
John
All righty, well, my name is John. I live in Richmond, Virginia, and I am an attorney.
Ben Thompson, AuD.
Thank you so much and tell us when did tinnitus start and what was happening around that time for you.
John
Well, it began in January very suddenly. I don't know why it started then. I have been told that it probably began for two reasons, number one, I'm 69. I was 68 then and no, I was 69 and I have a mild hearing loss that I wasn't aware of. Also in October of 2020, I had a very mild case of a COVID-19, which gave me very little symptoms, but stress. So stress plus being 69 with hearing loss probably is what initiated my tinnitus.
Ben Thompson, AuD.
Well, I'm excited to share with your permission what the context there was and what you went through. Our hope here is that someone else who's watching this video or listening to this audio can relate to your story and that some of the lessons you've learned, some of the tools you found helpful can be shared with others to make their experience easier. And we know that tinnitus retraing therapy, recovering from tinnitus, it can be hard, especially because of the timeline, requires a lot of patients.
"Treble Health helped me reduce my tinnitus by about 80%, and now I can live my life again!"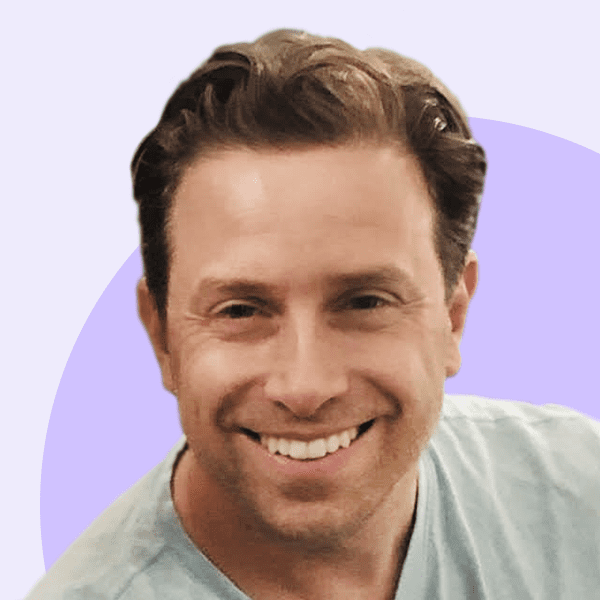 "Treble Health helped me reduce my tinnitus by about 80%, and now I can live my life again!"
Which Treble Health solution is right for you?
Six months ago we started working together. You've improved a lot in those six months, and I wanted to record this because documenting what it's like six months after starting TRT is very helpful. And then later on we can record another session of how things end up for you. So please take the floor of why did you reach out for help? What did you learn about tinnitus at the beginning of your journey in January or February of 2021?
John
Well, when it first came into my life began to do, I knew what it was. I mean, I sensed that this is what I had because I'm a personal injury attorney and I deal with people who have been hurt and sometimes people who have brain injuries have ringing in their ears so I talked to my family physician, very, very nice guy, but he knows nothing about tinnitus, frankly. He suggested that I have an ENT evaluation and a hearing test. I did, that confirmed the high frequency hearing loss. And at the same time that I was doing that, I was doing my own research, probably like everybody else looking for that pill or that immediate relief. I promptly found that there was no FDA-approved drug. There was no surgery that was going to fix this, that managing it was the only way to affect it and deal with it. It was very, very stressful. It didn't keep me from working because the tinnitus that I've had has never been a really loud tinnitus, but it's been a constant tinnitus, I would say and it's bilateral, so I have it in both ears. So I ended up on the internet and found pure tinnitus and found Ben Thompson and TRT, which I researched and read about Dr. Gasperboss, found that he was one of the grandfathers of this problem, and developed a toolkit that I carry with me all the time. The first thing that's in the toolkit are hearing aids, which have been a big help.
The second tool in the toolkit has been meditation, which I had never done before and knew nothing about, but have come to enjoy it and I do it three times a day for probably no more than an hour a day, but it's morning, noon, and night. I had been exercising before, but during the pandemic, of course, exercise was harder because I couldn't go to my normal gym, but as soon as that cleared a little bit, I went back to my exercise routine, that has helped. I found conscious breathing and learned box breathing and 4, 7, 8 breathing, which I do, which helps. It's an adjunct, I would say, to meditation. And then I was introduced to the new neurosensory buzz through Dr. Thompson. And I don't know why I like it, but I do. It seems to help so that, and I got from my physician, some anti-anxiety medication, which I don't, I guess I don't recommend that people use that, but it was helpful to me particularly initially because it rattled me. I've been very fortunate in my life and I'd never had any health conditions really at all. I never even took an aspirin until this developed. So those are the things that have helped and have reduced to the bothersomeness of the tinnitus. I would say in six months, 75%, it's not gone, It still does, occasionally. I have some days that are not perfect. I've learned from my research and from Dr. Thompson that it's not every day is necessarily a little better than the day before. I might have three or four great days and then I might have a day where it seems to bother me, but the trend is definitely in the right direction and I would encourage anyone who is coming to deal with tinnitus initially to reach out to Dr. Thompson or one of the audiologists that I think he's working with and stay off of the tinnitus stuff that's online. There are a lot of very depressing people online with tinnitus. That would be what I would suggest.
Ben Thompson, AuD.
What happens in a TRT session, if someone asked you, John, what do you do every time you meet with a TRT audiologist, other than hearing aids, other than technology, what happens?
John
Well, we talk about the stress and we talk about where I am, what I'm doing. It's a holistic sort of approach to things. I wouldn't say TRT is some magic bullet, but it is, I'd never been to counseling any other counseling in my life because I blessedly not had mental health issues either, but it's very good to have someone who understands what you're going through. Dr. Thompson has tinnitus, so he has dealt with it himself personally, which means a lot to me because it's a very hard thing to explain to people. So it gives you a resource, someone to talk to, someone if you've got questions, you can get someone who's doing the deep dive into all of this stuff and not having to search the internet where there's a lot of misinformation out there.
Ben Thompson, AuD.
Thank you, and I wanted to ask, in your opinion, is tinnitus a black and white, either you have it or you don't kind of condition? Or is it a spectrum? This is something I've been thinking about a lot where I feel, especially at the beginning when you didn't have it before, and then suddenly it's there. We want to solve it. We want to fix the problem and get it out. But over time we realized that there's a spectrum of having tinnitus and having some low-level sensation, sound, ringing, hissing is not the end of the world. Certainly you can have a healthy, normal life with it. How have you approached that? How has that changed over the last six months for you?
John
Well, just as you said, initially, when it first came into my life, it consumed me initially because I felt like there has to be some answer to cure this immediately. I mean, this is American, probably particularly our instant gratification folks. We want a pill. We want to fix it right away. I have discovered that's not true. I have come to believe in habituation. I believe I will like probably 90%, maybe more people will habituate to it where it will be there, but it will not, and be a major feature of my life. It does not dominate my life any longer. Sure, there are some days it's a little bit more irritating than others, but some days I forget I even have it or parts of whole days I forget I even have it. So it definitely is a spectrum. So if you're new to it, remain confident that if you do the right things, that it will fade in importance to you.
Ben Thompson, AuD.
How do you recommend, how do you give advice to someone who is still working as you have been. You're still working a job and if I'm correct, your job has some stressors working as an attorney. So how did you approach staying with your job, but also some modifications to create the right internal and external environment to help with your habituation with TRT?
John
Well, there's no doubt for me at least, and I think it's universally recognized that stress exacerbates tinnitus, but so does being bored and not being active exacerbate tinnitus. So for me, it's hitting the right balance. As I said, I'm 69. A lot of people at 69 are retired. I enjoy my work. Yes, it can be stressful, but it's a matter of moderation. I am trying to moderate the stress in my life in all regards and if that has helped, you can't eliminate all stress in life. You're going to get sick of something else. We are living in a particularly stressful time with the pandemic, but you can do things to minimize your stress, to not try to balance as many balls in the air as maybe you were before. And so that is what has helped me, is just try to work less hours maybe, make room for other things, stay active with other things other than work that bring you joy. My grandchildren bring me joy and when I'm around them I never think about my tinnitus. So that's how I do it. I just try to moderate the stress, keep it at a minimum.
Ben Thompson, AuD.
I like what you said. We know that stress can induce tenderness, but also lack of stimulation, social isolation, boredom can induce tinnitus. So finding that balance, a very astute observation. I have a note here from earlier months, months ago, when we first started working together. After some time you said that when this first started, you didn't have any counseling. You didn't have any meditation. You didn't have much proper education and you didn't have hearing aids. Bring us back to what did all those things do for you and functionally how did that affect your experience with this at the beginning, those first few months of trying to figure it out on your own.
John
Well, trying of figure out it out on your own, to me was very, very lonely feeling because I didn't know anybody that had tinnitus. My doctor didn't know anything about tinnitus. My ENT just sort of shrugged and said, "Yeah, you got tinnitus. It'll get better. You know, maybe go get some hearing aids." A nice young guy, but he didn't seem to know anything. So I felt lonely, isolated, obviously a little bit scared about it. But as the tools came into my life, it gave me a sense of more control. I don't have complete control over it, but the hearing aids were a big help. I find them no more inconvenient to use than wearing glasses and I've worn glasses since I'm a little kid. No one has ever asked me about it. It hasn't been a problem aesthetically or anything like that. I don't think people can even see them or if they do, they never say anything. Meditation I've come to enjoy. It also is not a cure-all, but it is very calming and it centers you some.
Ben Thompson, AuD.
Can we talk about that because you hadn't tried meditation before. What were your initial hesitations? And I wanted to add that the more time I've worked with tinnitus patients, the more I've been inclined to say, "Hey, if you haven't tried this, give it a solid chance. Don't just try it twice and say, eh, not sure. Give it a solid chance because it seems to be helping a lot of patients with tinnitus." What was your experience of never trying it, open-minded but maybe skeptical, and then now you've kept with the practice for quite a while.
John
Yeah, I have kept with it and it, again, it's like everything, it's not a cure-all, but it is an aid. I was, I guess, skeptical as someone that grew up with American, you know, or Western medicine, meditation grew out of Eastern culture, but it's very calming. I think you'll enjoy whether you have tinnitus or not. I think it's good for you, lowers your heart rate. And there's meditation of all types. You can do it for five minutes or you can do it for an hour, so it can be done almost anywhere. You can find the apps on your phone so it's very user friendly. There's millions of, like the millions of practitioners. I would encourage you to try a tinnitus seven day challenge that Dr. Thompson has. I was a little bit reluctant about that at first. I don't do it perfectly. I don't always sit with my feet on the floor in the exact direct posture, so I'm not perfect practitioner, but I'm pretty religious. I don't think since I've begun it that I've ever gone a day that I didn't do it three times a day, morning, noon and night. You're just not so busy that you can't find 15, 20 minutes, three times a day to add up to an hour.
Ben Thompson, AuD.
You've taken that very seriously, yes. When we first met, you said, "Hey, Ben, look, I need someone to make sense of all this information and to create a plan and to be my guide in this" and to which I responded, "Yes, we have you covered." And I feel that me and our other audiologists on staff, that is exactly what we aim to do is create a plan, follow up on that plan, have consistency checkpoints because every time we met, we were proactively working through things before they bubbled up and resulted in a negative way. And earlier, when we first met, you said, "Let's try anything that you think might help." So we were considering massage. And I have a note here that massage wasn't quite helping you in those early stages, what we might call the urgent care stage when there was still a lot of anxiety. And I have a note from you saying that "massage felt like they were waxing the car while the engine was still running, that they were trying to do something, but there was so much energy happening inside that it wasn't really calming you down." You want to expand on that more?
John
Yeah, that's true and I have been someone that has enjoyed massage mostly my adult life. I mean, not every day or once a week, but when I travel or whatever, I am someone that enjoys if I'm in a nice hotel or a spa, or I'm in a legal convention where there's a nice facility, I would go and get a massage and I always enjoyed it. For some reason, with the tinnitus in the early stages, I think I was too nervous to have someone, particularly anything near my head. I was very afraid in the early weeks and months that someone would do something to make this condition much worse and so I tried it a couple of times and it just wasn't for me. The same thing with craniosacral therapy. I tried that with two different practitioners. Now, they don't actually really put their hands on you. Their hands are above you. At least the ones that did it for me. I know that that has anecdotally helped some people. It was not a plus for me, other than, I guess it's just nice to lie in a quiet room and have a pretty girl, you know, walking around your body or something, but those two things were not a great help to me. And maybe you should go back and follow them. I am going to try yoga now. I'm going to try, I think it's called yin yoga because I think that is something I might add to the toolkit 'cause I do, I want to do anything and everything that's out there. If someone had told me in January of 2021, "John, if you fly to Moscow, Russia, there's a doctor there that will fix this. That's going to cost you a hundred grand, my man, but he'll fix you in an hour," I'd got that money together somehow, I'd got on the plane and I'd flown there, but I'm not in that mindset any longer. It's not bothering me anymore. I'm not paying anybody a hundred thousand dollars, but it's very manageable with the TRT approach and I think if you give it a chance that you will find that the tools that are being offered will be, will significantly help your condition in the first six months. And I'm hopeful at 18 months, that I'll be even, it'll be less of a future of my life.
Ben Thompson, AuD.
Six months is a good checkpoint. We usually see once TRT or the right kind of resources are set up for our patients that within the first three to six months, the bothersome aspect, the annoyance, how much it's on your mind, how much it's affecting you, in those first three to six months, we usually see that drop significantly. Now the six to 18 month mark is usually where if and when the volume will get softer, it's going to happen within that range, so for the next six to 12 months, John, what's your outlook on this? How are you approaching this? And for anyone listening, we do plan to record this again in around six months so we can check in and see the progress. How you're approaching the future here, John? Are you changing anything? You keep in the same toolkit or what?
John
Yeah, I'm going to keep the same toolkit. I'm going to keep being your patient if you'll keep having me. I intend to talk with you every two weeks to see if there's anything new coming out, I'm going to remain optimistic. I'm going to make sure that I don't develop any negative thoughts. Because you can develop sort of a negative loop about this stuff early on and I'm going to make sure I don't do that. I don't know that I'll get as much improvement in the next six months or the third six months 'cause I'm looking at it at an 18 month timeline as I did in the first six months, but I don't think I need to. I think if I can just stay steady, stay dedicated to it, that I will slowly see some gradual improvement and that's I think all I can hope for. I have accepted that it is a chronic condition, that it will be with me to some degree for the rest of my life, but if it stays at this level, I can handle it. If it gets better, so much the better.
Ben Thompson, AuD.
What is your level when you have the sound therapy out of your ears right now, hearing aids out of your ears, what is your level from one very, very soft to 10, very, very loud in a quiet room?
John
Without hearing aids, maybe a two and a half. I've never, I've been very fortunate. I guess I've never had screaming loud, horrible tinnitus. It's never changed in intensity. It's never jumped around. It's been constant. It's like a hissing sound with the hearing aids in, it usually goes from a half to a one and a half. When I sleep, I use brown noise and I put on a headband thing that goes around my head that it has two little speakers next to my ears and I put on some more sounds and that helps.
Ben Thompson, AuD.
Great. John, I'm so happy that you said yes. I'm so glad that we're sharing this message because other people need to hear this. Other people need to see an example of what is it like six months of utilizing the toolkit you laid out? What is it like six months? We're going to check in in another six months. Thank you for coming on and being the guest. I want to ask you to end it here. You are an attorney and you work with personal injury. Do you have any message for other attorneys who may be listening about tinnitus or do you have a message for patients who may have experienced an injury related to tinnitus and how to navigate the legal landscape with that?
John
Well, if you, tinnitus can come from brain trauma. It's one of the, I guess less common consequences of a TBI. It's normally memory problems, light sensitivity, sound sensitivity, headache, dizziness, personality changes, but there is a subset of people who do develop tinnitus. And if you do develop tinnitus, go find a first rate personal injury attorney in whatever community you're in. If you don't no one, call me because I know them around the country and I'll be glad to direct you to the right person and if someone else has caused your harm, it's something that you should and can be compensated for in most situations.
Ben Thompson, AuD.
Thank you for that. John, thank you for sharing your time. I value this so much and I've really enjoyed working with you one on one here and for anyone who's been watching or listening, this is what we do. We meet on Zoom. This is a telehealth consultation. It's comfortable. I'm in my home office. You're in your office. Any last words, John?
John
Just everybody, give Dr. Thompson a call. It will get better. There is a way to manage this if not cure it, but if it gets low enough, you don't need a cure.
Ben Thompson, AuD.
Thank you, John. Take care, everyone. This has been episode 25, talk to you soon.