Hearing and Tinnitus Expert Dr. Michelle
At Treble Health, we have been rapidly expanding our team of audiologists to bring even more service to you, our patients. Six months ago, we welcomed Dr. Michelle to our crew. Dr. Michelle is a hearing and tinnitus expert has hospital experience in some of the best hospitals in the New York City area. Because we strive for a personal connection between patient and provider, we wanted to allow you to get to know her.
Located in North Jersey, Dr. Michelle has been able to grow in an area with an abundance of excellent healthcare opportunities. "I think that's something that drew me to Treble Health," says Dr. Michelle, "the avenue of telehealth helps bridge the gap for people that live in more remote areas or even from other parts of the world." Initially, Dr. Michelle wanted to study dentistry but decided on audiology in favor of building better relationships with her patients.
Michelle received her undergraduate degree in psychology from the University of Connecticut and her doctorate in audiology from Montclair State University. She completed her dissertation comparing the working memory skills of young and middle-aged adults in noise and had her research published by the Journal of the American Academy of Audiology. Since then, the majority of her career has been spent working with patients in major New York and New Jersey hospital systems.
"Treble Health helped me reduce my tinnitus by about 80%, and now I can live my life again!"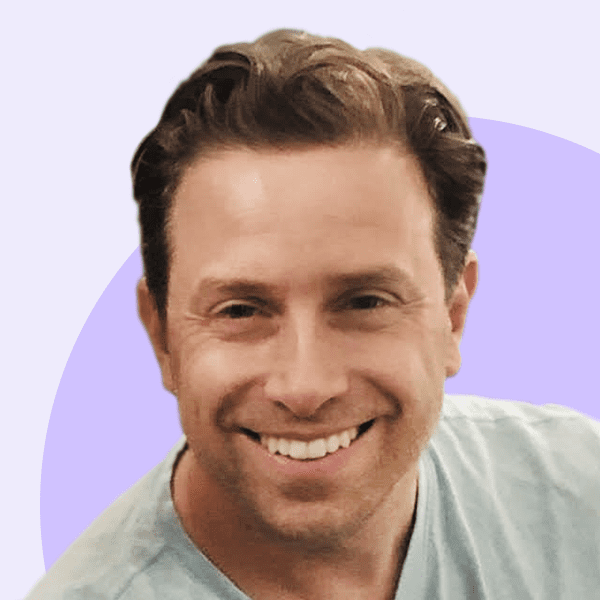 "Treble Health helped me reduce my tinnitus by about 80%, and now I can live my life again!"
Take the Tinnitus Quiz to learn which Treble Health solution is right for you. Join Steve and thousands more who have found lasting tinnitus relief.
At New York Langone Health Center, she gained a strong professional foundation by working alongside doctors in varied medical fields from otolaryngology to neurology. From there she moved to Hackensack University Medical Center, the number one hospital in New Jersey. She greatly enjoyed working with pediatric patients with hearing loss and speech delays and adult patients with vestibular issues. Ultimately, Dr. Michelle found an opportunity to work with us at Treble Health, and accepted it because she was "really looking to build stronger patient connections with more follow-up."
When asked what her favorite part of her profession is, Dr. Michelle expressed her awe at the power of simple words. "I'm oftentimes really surprised by how just a small level of education or just some simple words really does help them to see their situation or their tinnitus… from a different light and different perspective." She finds herself amazed every day at the progress individuals make after receiving education and counseling. "I've been so surprised by how quickly some people turn around, where one day I'll meet with them and they. . .see things from more shades of gray, and then. . . in a few weeks… it's like the light has reentered their life."
We are so glad to be working with a doctor so eager to build lasting relationships with her patients, who understands the impact she has on the people she encounters every day. It is a joy and a privilege to work with a doctor striving to do everything right by her patients, giving guidance and reassurance wherever she can. We want to officially welcome Dr. Michelle Neidleman Kennedy to the Treble Health team!
Treble Health is committed to providing the best service and treatment at our patients' convenience, from the comfort of their own homes. For those who would like to reach out to an audiologist on our team, including Dr. Michelle, please find us at treblehealth.com; we'll be able to help you, starting with a free consultation just to meet each other, and then from there moving forward with the right kind of service, treatment, or devices for you.