While tinnitus may not be an uncommon condition, the precise ways it affects people and the underlying causes of the condition are very different. This means that the best hearing aid for one person may not be the best hearing aid for another. We've put together a comprehensive guide that does a deep dive into the best hearing aids for tinnitus based on a range of preferences and needs, to ensure that your particular tinnitus symptoms are addressed as fully and effectively as possible.
What Are Hearing Aids For Tinnitus?
Hearing aids that are useful for not only amplification, but also for tinnitus are any devices that offer amplification and tinnitus sound therapy options. Aids can be used to treat slight and profound hearing loss alike, as well as a range of tinnitus sounds and symptom severity. They can come in a variety of styles–think large and small, colorful and neutral–and are typically available to be utilized by people of all ages.
Hearing aids are medical devices regulated by the FDA, so there is some degree of consistency and regulation among companies and models. That being said, they are both fit and sold by licensed hearing care professionals like audiologists, who are trained at the doctoral level to deliver healthcare related to the ears and hearing. As trained healthcare professionals, audiologists are able to develop and implement plans to effectively address the symptoms of tinnitus.
"Treble Health helped me reduce my tinnitus by about 80%, and now I can live my life again!"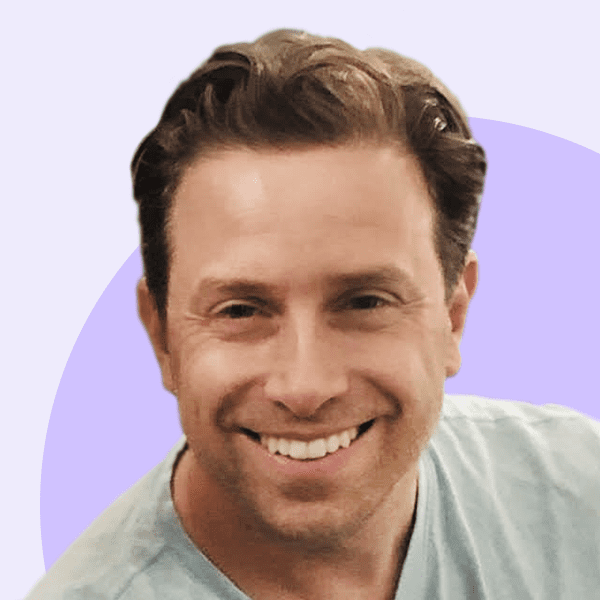 "Treble Health helped me reduce my tinnitus by about 80%, and now I can live my life again!"
Take the Tinnitus Quiz to learn which Treble Health solution is right for you. Join Steve and thousands more who have found lasting tinnitus relief.
How Do Hearing Aids For Tinnitus Work?
Hearing aids for tinnitus work in much the same way as standard hearing aids, as far as amplification goes, but they are equipped with additional parts and programming that allows for masking and other forms of sound therapy. Most aids are made up of four basic parts: a microphone, an amplifier, a microchip, and a speaker. Each part performs the following functions:
Microphone: Picks up external acoustic sound waves to deliver those sounds to the wearer.
Microchip: Converts the sounds received into electrical signals to be delivered to the wearer, and can add additional sounds to be put out by the speaker/s.
Amplifier: Enhances and processes incoming sounds to make them more effectively understood by the wearer.
Speaker: Puts out the sounds taken in and generated into the wearer's ear.
These are the four basic or main parts of all hearing aids, and the complexity and design of each will inform the type of hearing aid and its preferred uses.
If an individual is utilizing the aids wholly for tinnitus, without hearing loss, the amplifier is not utilized. Instead, the microchip is the main workhorse, and is used to stream external sounds via a Bluetooth enabled device or present onboarded sound therapy sounds to the individual wearing the aids.
Methodology Of Our Rankings:
Experts consulted: 9
Brands considered: 8+ (focusing on "main players," rather than all available brands)
Models Considered: 50+
Models Selected: 6
To identify the best hearing aids for tinnitus, we consulted with our expert team of audiologists. Our audiologists possess a plethora of experience working with tinnitus, coming from top hospitals and private practices from around the country. To make sure we selected the ones that were most advantageous to tinnitus patients, we focused our attention on the features most important for tinnitus treatment, including sound therapy options and availability, Bluetooth connectivity and compatibility, and battery life, all of which can significantly impact a wearer's experience in day to day life. 
Treble Health's Ranking Of The Best Hearing Aids For Tinnitus Is As Follows:
Best hearing aids for hearing loss and tinnitus: Oticon Real
Best hearing aids for multiple sound therapy options: Widex Moment
Best hearing aids for extended battery life: Signia AX
Best hearing aids for easy remote fittings: Resound Omnia
Best hearing aids for easy use: Phonak Lumity
Best hearing aids for custom style options to manage tinnitus: Starkey Genesis AI
Widex Moment Sheer
Widex Moment Hearing Aids are best for those that want a variety of sound therapy options.
"Widex Moment devices are great for patients that need to have unpredictable sounds or need to alternate between sounds to help provide relief." — Michelle Neidleman Kennedy, AuD – Treble Health Audiologist
General Hearing Aid Features
What is perhaps most notable about the Widex Moment Sheer is its ability to stream audio from iPhones directly, and from Android devices using the ASHA (Audio Streaming for Hearing Aids) standard. The full compatibility for use can be found here, but as a hearing aid that can be tied to a phone that users are likely to have on hand anyway, this one often wins in a contest for convenience and ease of use. As part of their dedication to superlative sound, PureSound technology is used to help reduce the artificial sound quality that can plague amplification devices, and make it sound more natural by processing sounds faster than ever before, and effectively eliminating a lag that can cause sound distortion.
95% of users reported that sounds were located exactly where they expected them to be, as a result of enhanced sound localization. MySound is a form of AI technology that allows the hearing aid to identify your unique listening environment to enhance hearing using your own personal preferences and those of other users from around the world. In essence, these hearing aids "learn" to adapt to make sure the sound quality is as high as possible.
The IP68 model can tolerate being submerged in 1.5 meters of water for up to 30 minutes, for those who may work, live, or play near bodies of water, and also comes with 29 hours of rechargeable battery life, or 16 hours with 8 hours of streaming. When batteries run low, they require only 4 hours to recharge for a full day's use, and can utilize a 30-minute fast charge for 4 hours of use.
To accommodate a variety of tastes and preferences, there is a wide range of colors available, from pink to a more traditional black, for a total of 13 color options. For further customizability, there are multiple ear tip sizes to help with both comfort and effective hearing.
Features Specific To Tinnitus
SoundRelax is a feature that allows users to select from 14 different sound options. Sounds are relaxing, static, and nature-based, and can be used in conjunction with one another. Fractal sounds are also available, which are harmonic and melodic tones that are delivered in unpredictable patterns and sound similar to wind chimes. The wearer is able to activate any one of these programs by using a button on the hearing aids, using the app, or using a remote. The sound therapy function can be used alongside amplification, as well.
The Widex Moment app can be used to exercise greater control over the sound therapy combinations and volume. The Widex Zen app can be used to receive counseling, relaxation practices, and further sound therapy options. Within the same programming, wearers can receive sound therapy and amplification. Although phones cannot be connected to and listened alongside of SoundRelax tones more than one sound can be overlaid to effectively mask.
Pros And Cons
The sound therapy options are greater in these hearing aids than in any other aid currently on the market. The companion app is similarly useful and unique, as it offers even more sounds for masking and sound therapy. A wide range of colors can be a significant boon for those who are looking for increased personalization and style.
Remote fittings outside of an audiologist's office do require an additional accessory, which can be a drawback for some. Not all Android devices are compatible, so a compatibility check is necessary for anyone considering these aids. There is also only one basic style of hearing aid (receiver in the ear), which can be limiting for some.
Resound Omnia
Resound Omnia Hearing Aids are best for those who are always on the go, as they can be finetuned by your audiologist asynchronously.
"I really like that I can make adjustments for patients without having to carve out time in both of our schedules. The flexibility has made customizing the tinnitus maskers so much easier for both the patient and audiologist." – Michelle Neidleman Kennedy, AuD – Treble Health Audiologist
General Hearing Aid Features
The Resound Omnia is unique for its high-performing, built-in antenna, which provides improved streaming connectivity and sound quality. It also allows users to enjoy direct streaming of phone calls with compatible iOS and Android devices, providing hands-free calls for iPhone and iPad, and making it easier to use phones without being concerned about actually hearing or being able to participate in calls.
The IP68 can tolerate being submerged in 1.5 meters of water for up to 30 minutes, a great feature for anyone who is regularly exposed to water or the elements. The Omnia also offers an all-day battery life on a single charge–even when streaming is utilized. On a single three-hour charge, the Omnia can be used for 30 hours, followed by 15 hours of use for a one hour charge, and 2.5 hours of use on a 10-minute charge. Different charger options allow wearers to use a built-in battery to further extend life, or a dedicated power source. This particular hearing aid also boasts the best beamforming technology, which improves hearing by utilizing information from the four microphones located in both hearing aids. It also maintains the quality of your own voice to reduce perceptions of increased volume and artificial sounds–common complaints for those who use hearing aids.
The Omnia provides better localization for sounds and reduces wind noise, making it easy to use even while outdoors. It is managed and controlled via an app, wherein wearers can check the fit of the devices to ensure proper use, receive feedback tests and asynchronous adjustments to all features (including tinnitus programs designed by your audiologist), and even create personalized programs based on the overarching program recommended by your audiologist.
Features Specific To Tinnitus
The Resound Omnia provides four different types of masking sounds: high-frequency, white, speech, and pink noise. Volume, amplitude modulation, modulation speech, and frequency range can also be changed to deliver a more personalized experience for users. Nature sounds are also available, with six total offerings including breaking waves, water creek, calming waves, beach surf, ocean, and shoreline.
Resound Omnia hearing aids are also a great option for those looking to improve tinnitus symptoms, because they provide an excellent partner app. The Resound Relief app provides sound therapy, relaxation and meditation exercises, and more, all of which can be used without hearing aids.
Pros And Cons
The Resound Relief app provides far more than many standard hearing aid partner apps, including sound therapy and holistic resources in order to manage tinnitus symptoms with and without hearing aids in place. Audiologists can make changes to programming asynchronously, and they come in a variety of styles.
Although the phone app provides a slew of features, it is also one of the limiting aspects of the Resound Omnia; the app must be used to address most changes to hearing aid use and programming, as only a small button with limited power is available on the aids themselves. Not all Android devices are compatible with the Omnia, and there is not a CROS option for users with single-sided hearing loss or tinnitus.
Phonak Lumity
Phonak Lumity Hearing Aids are best for those who want simple and easy to use devices and apps.
"I've found that even the least tech savvy patients have been able to easily use both the devices and the app. It has empowered them to take more control over their tinnitus." – Michelle Neidleman Kennedy, AuD – Treble Health Audiologist
General Hearing Aid Features
Phonak Lumity hearing aids possess SmartSpeech Technology to help improve understanding across a range of environments. One of its greatest assets is its ability to pair to Apple and Android bluetooth devices universally–a feature that can be particularly helpful for those with uncommon Android devices. The Phonak app, myPhonak, has additional features like health-tracking features, which track steps, activity levels, distances walked and run, and overall wearing usage of the aids in question. Remote care features allow users to have devices tuned wherever you are, while SpeechSensor improves hearing from directions that are more often difficult to become attuned to, including the back and sides.
StereoZoom 2.0 enhances the audibility from in front of you in more difficult listening environments, such as environments with numerous noise sources or speakers. The Adaptive Phonak Digital 2.0 reduces the effort required to effectively translate noise, freeing up cognitive resources and energy and improving general quality of life. Another part of Lumity's technology, AutoSense OS 5.0 does an excellent job of identifying the different listening environment wearers are in, in order to enhance hearing while utilizing AI to create personal settings based on common environments.
A charge provides a full day of hearing after only three hours, though a travel charger case holding up to three charges is also available for use. There is an inductive charger, as well, that does not possess a built-in charger. To make the hearing experience easier and better, Phonak Lumity aids works with a host of different accessories. These include Roger On, a remote microphone used to minimize the effect of both distance and excess noise. The waterproof nature of the Lumity is highly unique, as it can tolerate a ½ meter (or over 1 1/2 feet) of fresh pool or salt water.
Features Specific To Tinnitus
A tinnitus balance noise generator generates broadband noise (pink or white noise) that can be used as a part of a tinnitus masking program or Tinnitus Retraining Therapy efforts. The hearing aids can be programmed to personalize the volume and frequency of the devices, all of which can be accomplished by using the button directly on the hearing aid, the app, or even an external remote. Bluetooth devices can be used to further personalize hearing therapy and masking. Masking can be delivered in tandem with amplification, making it another ideal option for people with tinnitus, though streaming and amplification cannot be used simultaneously. There is not a separate tinnitus app offered.
Pros and Cons
The Phonak Lumity is the first waterproof, rechargeable hearing aid. The myPhonak app has health tracking features, which can be used to keep a close eye on health that is not directly related to the ear. There are numerous charging options, including the Charge Case Go that offers three charges within the case, and a Charge and Care that can be used to dry the aids.
These particular hearing aids are only available in one style (receiver in ear), and do not offer a disposable battery model (only rechargeable models are available). Dexterity issues can come into play when using the on board, tap-control button, so those who struggle to extend or use their fingers may have trouble utilizing the button.
Oticon Real
Oticon Real Hearing Aids are best for those who have both hearing loss and tinnitus.
"The sound quality of Oticon aids is excellent and more natural sounding than some of the other hearing aid manufacturers. This makes the acclimatization process so much easier for those looking to treat both their hearing loss and tinnitus." – Michelle Neidleman Kennedy, AuD – Treble Health Audiologist
General Hearing Aid Features
The Oticon Real possesses a Deep Neural Network (DNN), which offers 12 million real life sound environments. The recognition of these sounds can help deliver information for people with both hearing loss and tinnitus. The Polaris R platform is also better equipped to process rapid and unexpected disruptive sounds, which can include better sound control in wind and other noisy environments. The sound amplifier of this model ensures both audibility and comfort, while the optimizer minimizes feedback.
A built-in power bank, called SmartCharger, charges in three hours for a full day's use, while a 30-minute charge can provide six hours of use. The desktop charger is appealing to the eye, and can offer both a quick charge and an overnight charge. Users who possess an Apple iPhone 11 or later are able to use hands-free calls through the hearing aid. Android phones can enjoy direct streaming.
Accessories can work alongside the Oticon Real, including the ConnectClip, which works as a remote microphone, a remote control, and a remote used to change the hearing aids into a wireless headset. The aids allow streaming from any Bluetooth device and hands-free calls using this accessory, as well. A TV adapter can be used to stream sounds from the TV directly to the hearing aids, while the EduMic could be utilized as a remote microphone or as a means to stream audio from computers, tablets, and more.
The Oticon Real does come equipped with an app, the Oticon Companion, which allows users to change the volume and programs, adjust noise and streaming equalizer settings, check device battery life, reduce background noise via SpeechBooster, locate lost hearing aids, transform your phone into a remote microphone, and function as a source of remote care for adjustments. As you can see here, the Oticon's app packs quite a punch, and is a valuable tool.
Features Specific To Tinnitus
This particular type of hearing aid offers two different types of tinnitus maskers: broadband masking and nature sound masking. The broadband options include white, pink, red, and hearing-loss based broadband sounds, while the nature sounds available focus on ocean sounds. The Companion app is not especially tinnitus friendly, as it is mostly useful for volume control for tinnitus patients, while the On app can be used to address tinnitus sound variations and equalizer options (including bass, mid, and treble), and change the volume in one or both ears. With the ability to select your program and volume, it does offer some usefulness for users with tinnitus.
The Oticon Real can be used alongside an Apple watch. An Apple watch, the button on the device, the app, and an external remote can all be used to make changes to programs or manage volume. That being said, remote care does not allow for tinnitus adjustments within the Companion app.
Pros And Cons
The Oticon Real hearing aids are not only renowned for reducing listening effort for individuals with hearing loss but also offer an aesthetic appeal through various color options for those desiring a touch of personality in their devices. Broadband and nature sounds can be used in different settings to mask tinnitus sounds and address some of the more difficult aspects of the condition.
The compatibility of Oticon Real aids is somewhat limited; iPhones and ASHA Android phones are the only compatible phones available. The latest app from the brand (Comparnion) does not provide tinnitus controls, which can be limiting for some users. There are no customizable options for rechargeable styles, and tinnitus features cannot be adjusted remotely.
Signia Pure AX
Signia Pure AX Hearing Aids are best for those want to use notched noise.
"Being able to pitch match and create a personalized notched noise for some patients has really helped reduce their tinnitus perception. I like that Signia offers both traditional sound therapy options and notched noise." – Michelle Neidleman Kennedy, AuD – Treble Health Audiologist
General Hearing Aid Features
The Signia Pure AX makes use easy with hands-free calls (with iOS) and Own Voice 2.0 sound processing to ensure that users hear as much as possible with as little interference as possible. Like many of its competitors, these hearing aids are compatible with iOS and ASHA Android products to allow streaming directly through the devices. A unique feature is its Auto EchoShield, which reduces echoing to improve the ability to hear. In a similar vein, the Pure AX offers Better Soundscape processing technology to allow less interference from background noises, and adjustments based on the environment in which you currently reside.
Many users are pleased to find that the Pure AX offers a 24/7 Signia Assistant, which provides immediate support to address any issues or concerns, ranging from learning about the devices to adjusting different settings on the device once it has been set up.
Another unique feature is the Pure AX's TrueEar 360 technology. This technology mimics the ear's natural mechanisms to make localization of sounds easier, alongside a self-adjusting system designed to shift and change as acoustic and motion changes occur and protection against the effects and sounds of wind. In addition to these hearing-specific features, the Pure AX provides users with the ability to count steps, track activity levels, track wearing time, and measure social interaction through My WellBeing.
The Signia Pure AX also comes with an app that can be used to control the hearing aids' programs and volumes, including the Signia Assistant for telecare support. The app also offers a face mask mode, in light of recent events, to make hearing through face masks easier.
Although streaming is not provided directly from a tv, streaming is possible through Streamline TV accessories that allows users to stream sound from a television to hearing aids. There are numerous charging options, including desktop charging, a portable charger (carrying three full charges), and a "Pure Dry and Clean" charger that charges, UVC cleans, and dries hearing aids in one fell swoop. All chargers take four hours to deliver a full charge, while the cleaning setting takes only 15 minutes. A partial charge of several hours can be achieved by charging for 30 minutes.
Finally, the Signia Pure AX holds an IP68 rating. The aids can tolerate being submerged in up to 1.5 meters of water for 30 minutes or less.
Features Specific To Tinnitus
Telecare is available, when both the audiologist in question and the wearer are connected at the same time. While asynchronous care is not available, remote care is still a useful feature that can be accommodated by the Pure AX. Notch therapy and noise therapy are both available using them, and both can be used together. This makes them a great option for users with tinnitus, as these are common tinnitus treatment approaches. Tinnitus treatment can also be used in combination with amplification, which means that treatment programs can be used while hearing aids are already in use to amplify sounds. In what is perhaps one of its greatest strengths, the Pure AX can also employ tinnitus maskers while streaming audio from telephones or other Bluetooth enabled devices.
Pros And Cons
Tinnitus therapies like notch therapy are available through these hearing aids, while reducing hearing effort for users with hearing loss–an option that is not always available. Signia Assistant is another strong pro, as many hearing aid users have questions about their devices or experience issues that may need to be resolved quickly. 24/7 help can be invaluable for some. The range of chargers available can also be important for users who utilize aids on an ongoing basis.
Hands-free calling, while an excellent feature, is only available for users who have the appropriate accessory used to do so. The device also does not have a button directly on the device that can be used to start streaming, and tinnitus programming must be altered by an audiologist or other professional, rather than the wearer.
To read a full review on the array of hearing aids offered by Signia, click here.
Starkey Genesis AI
Starkey Genesis AI Hearing Aids are best for those who want devices that come with bonus features, such as health tracking and audio translation.
"I've always liked offering Starkey devices to patients who are very tech savvy and looking for bonus features, like health management. They offer a lot of extra features, while not compromising the hearing and tinnitus functions of their devices." – Michelle Neidleman Kennedy, AuD – Treble Health Audiologist
General Hearing Aid Features
The features of this particular hearing aid are entirely novel. From the processor in the aids, the sound, design, fitting software, and patient experience, the Starkey Genesis is designed to offer an experience unlike any other. This aid boasts the industry's most advanced processor technology. Its unique on-board Deep Neural Network (or DNN) accelerator engine works to mimic the cerebral cortex of the brain, in order to deliver a more natural-feeling hearing experience. Its AI technology can be used to identify complex patterns, in order to effectively adapt to all listening situations.
The Starkey Genesis delivers its Neuro Sound Technology, designed to offer a 20 decibel improvement in dynamic range, allowing wearers to detect soft and loud sounds alike with greater clarity, no matter how noisy or quiet it may be. The ergonomic design conforms better to the wearer's ear, which increases comfort and can be more discreet to others. Hands-free calling is available with Apple phones, but Bluetooth compatibility is only available for those with Android phones.
These hearing aids offer 51 hours of use on a single charge, making it the longest-lasting hearing aid available, and one charger can hold three charges. Seven minutes of charging yields three hours of use, so even without a ton of time in a charging cradle, these aids can provide some use. They possess an IP68 rating, which means that in addition to an excellent charge, the Starkey Genesis can be submerged in as much as 1.5 meters of water, for up to 30 minutes without loss of function.
The My Starkey app can be used to further fine-tune devices. The AI technology used to optimize sound quality in a variety of different environments can be evaluated on the app. The app is also home to personal health monitoring (steps taken, standing time, exercise levels, and more), fall detection that can be send to friends or family, lost aid location abilities, call streaming, hearing aid settings, tutorials and videos, language translation capabilities, reminders, and remote connections with hearing and healthcare providers in order to make remote adjustments on devices. The Starkey app is one of the more robust applications, and can be used to take the place of other apps tracking or measuring health.
Features Specific To Tinnitus
The Starkey Genesis AI provides multiflex tinnitus technology sound therapy, which offers customizable sound coordinating with hearing loss or sound modulation adjustments. Sound therapy can have narrow band noise or notched noise, and offers three masking settings: white noise, audiogram shaped (based on hearing loss), and stimulus personalization, or a complete personalization of frequency.
The AI-empowered Starkey Genesis uses the minimum detection threshold for masking. In essence, it identifies the point at which you cannot hear the masking sounds, then finds the lowest masking level wherein you are unable to hear your tinnitus, in order to program the best tailored masking program to address individual cases of tinnitus. Starkey also offers a tinnitus app, called Relax, for iOS and Android. More sound options and customizable streaming options can be found there, and the app can be used with or without aids.
Pros And Cons
Despite its power, the Starkey Genesis AI is a fast-charging hearing aid, boasting three hours of use after only seven minutes of charging. The hearing and health activity tracking features are available for all technology levels, and there are custom rechargeable options.
That being said, hands-free calling is only available for iPhone users, and the multi-flex tinnitus pro is only available at the two highest technology levels for Starkey hearing aid styles. The app, despite its many features, may not be user-friendly for all users, and can prove too complex for some.
Conclusion
Navigating through the complex world of tinnitus treatment, especially when seeking the right hearing aid, requires an understanding of not just the technology available, but also of one's unique auditory needs. With numerous brands and models on the market, each bringing its own strengths and weaknesses to the table, it becomes imperative to prioritize personal comfort, ease of use, battery life, and specific tinnitus-targeting features when selecting a hearing aid. From the varied array of options such as Oticon Real, Widex Moment, and Signia AX, each model offers unique attributes ranging from superior sound quality and sound therapy options to extended battery life, all aimed at enhancing the user experience while effectively managing tinnitus symptoms.
It's important to remember that the journey toward managing tinnitus effectively is deeply personal and multifaceted. While certain models may be heralded for their technological advancements or specific tinnitus-targeting features, the "best" hearing aid seamlessly integrates into one's lifestyle, providing relief and enhancing auditory experiences without becoming a focal point of daily life. Partnering with a skilled audiologist, being attuned to one's listening needs, and being open to experimentation with different models and settings are crucial steps toward finding not just a top-rated hearing aid, but one that resonates on a personal level, bringing tranquility and clarity to each moment.
Treble Health Can Help
At Treble Health, we've explored the vast array of hearing aids available, ensuring our recommendations are rooted in thorough research and real-world application, particularly with respect to tinnitus management. But our commitment doesn't stop at providing information. In light of understanding that tinnitus is not merely a persistent, intrusive noise but a condition that can profoundly impact your emotional and overall well-being, we encourage you to schedule a complimentary telehealth consultation with our audiology team.
During this complimentary, 20-minute Zoom consultation, our team can answer any questions that you may have and provide personalized, actionable solutions to navigate through the world of tinnitus management. This is more than a call – it's a step towards reclaiming tranquility and assurance in your auditory world, free from obligations and entirely tailored to your unique experiences and needs. Click here to schedule your complimentary consultation.