Do you suffer from tinnitus or hyperacusis despite receiving hearing test results that showed your hearing was in normal range? In this article, I will share my success using a device called an ear-level sound generator. I will explain how I use this technology with patients following tinnitus retraining therapy, and will also explain how exactly you're supposed to use this device. I will explain how it can be beneficial, and then dive into some scientific tests that I conducted in order to show the difference between white noise, pink noise, and a zero-decibel noise floor.
Various companies make ear-level sound generators that can then be obtained through a healthcare clinic that specializes in tinnitus.
When you put this device up behind your ear, you will notice that it's slim, small, and comfortable. If you're following tinnitus retraining therapy, then you'll be using the device for low-level sound therapy for most hours of the day. For those patients who spend most time in their home space, like a home office, sound therapy via a speaker in the room might suffice. But for those who are constantly moving around and lead more active lifestyles, having a device that sits on your ear will be more effective.
The Difference Between White Noise and Pink Noise
Before we dive into the advantages and disadvantages of this device, it's important to understand the difference between white and pink noise. Pink noise does not have nearly as much high-frequency stimulus as white noise. As a result, you may find that certain sound therapies work better for your tinnitus compared to others. Thus, once you find a sound that you can use as a neutral background sound, it's recommended to stick with that sound as your background sound.
"Treble Health helped me reduce my tinnitus by about 80%, and now I can live my life again!"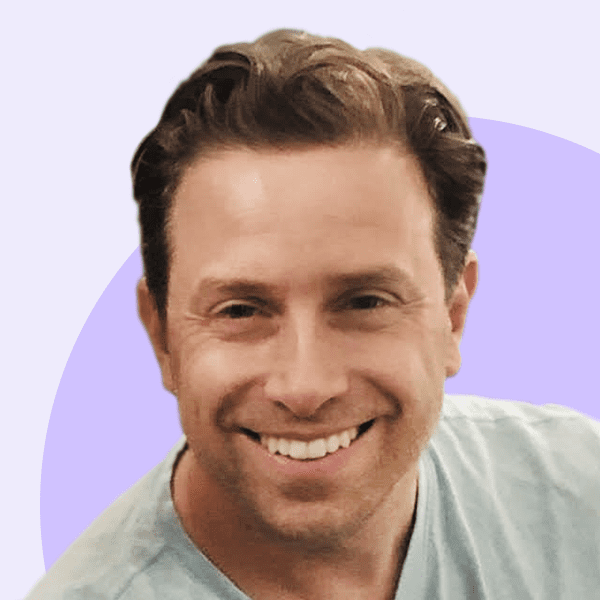 "Treble Health helped me reduce my tinnitus by about 80%, and now I can live my life again!"
Which Treble Health solution is right for you?
When you're controlling for pink noise or white noise with an ear-level sound generator, you can adjust the volume via a little knob. It's also important to note that this device starts at a zero-decibel noise floor, so that patients can start with more gentle sounds and go further up from there if necessary. Remember that these devices are for patients who've had a hearing test within normal limits and yet still struggle with tinnitus or hyperacusis.
One advantage of an ear-level sound generator like the Tranquil 2 is that they are small, discreet, and nearly hidden. The Tranquil 2 comes in four different colors (beige, brown, silver, and black), making it easy to match it to hair or skin color. In my experience working with telehealth patients, these devices are easy to use and reliable. There's not as many electrical components as a hearing aid, so the device is more resistant to environmental factors like humidity. Patients often report that these devices last years, and can be kept around in order to manage tinnitus spikes.
One disadvantage of an ear-level sound generator like the Tranquil 2 is that it lacks Bluetooth compatibility. Thus, they can't take phone calls or stream music and other sound therapy. That said, many patients don't require these features for their treatment and are fine without them, and other patients appreciate the simplicity.
Most tinnitus retraining therapy protocols lay out a plan of 6 to 18 months of consistent, daily sound therapy. While sound therapy may seem simple, it does offer a significant impact in managing tinnitus, and a device like the Tranquil 2 can provide real-time relief and long-term positive neurological effects to the auditory system. Nonetheless, devices like the Tranquil 2 are only intended to be used for a temporary period of time. Once the initial retraining period is over, sound therapy can be tapered and used as needed for any future tinnitus spikes.
If you're considering ear-level sound generators for tinnitus or hyperacusis, you may also want to look into hearing aids programmed for those features. With these kinds of entry-level hearing aids, the amplification feature would be turned off and used in a similar way to ear-level sound generators. The main difference here is that these hearing aids would have some Bluetooth streaming options, unlike ear-level sound generators. All in all, a pair of these hearing aids are typically 30 to 50% more expensive than ear-level sound generators.
Frequently Asked Questions About Ear-Level Sound Generators
"I just have tinnitus in one ear. Do I need to wear one or two ear-level sound generators?"
We recommend using a pair of devices for both unilateral or asymmetrical tinnitus. Positive neurological effects are correlated with stimulation in both areas of the auditory brain. Some patients also report a shift in their tinnitus to the good ear when only using one ear-level sound generator.
"Will they make my hearing worse?"
Ear-level sound generators are safe to use and won't make your hearing worse.
Other questions like "How do I use them?", "Am I the right candidate?", and "How long do I have to wear them for my specific case?" are individualized, and thus best addressed following a one-on-one consultation.