Ben Thompson, AuD.
Hello everyone. My name is Dr. Ben Thompson. And today I am with a special guest. This is Loretta and Loretta is a patient of mine. A true gift of working via telehealth is to be able to check in at intervals with patients. And this is about six months after Loretta and I started working together for tinnitus and hyperacusis. Loretta, how are you doing first of all? And second of all, what is the major lesson that you've learned from where you were six months ago until now.
Loretta
I'm doing good. Doing better. Main thing I've learned is to listen to what you and therapists are telling us to do, which sometimes may sound crazy or, or not doable or whatever, but if you do it, that's, what's going to cause you to get better.
Ben Thompson, AuD.
And where were you six months ago? What conditions were you facing? What was your daily struggle?
Loretta
It was horrible. I was full of anxiety, which wouldn't go away. My sense of sound sensitivity was really, really bad. I couldn't hear, I couldn't hear, even in my own home. I couldn't hear the air conditioner, the washing machine, the refrigerator, the dryer, you name it most everything. The water from the shower, it was causing me a lot of grief. And if you have the anxiety on top of that, it makes it even worse. I lost so much weight from going through that, anyway. I lost a lot. I lost a lot. I lost myself.
Ben Thompson, AuD.
And tell us about the lessons you've learned and what techno- what, what was the combination of technology, professional counseling and your own work? Because a lot of the changes that had to happen were from you having your willpower to power through and continue on and make some modifications.
"Treble Health helped me reduce my tinnitus by about 80%, and now I can live my life again!"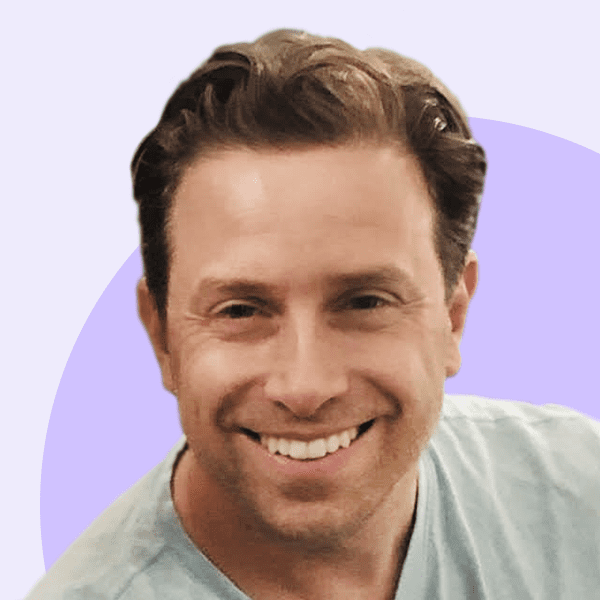 "Treble Health helped me reduce my tinnitus by about 80%, and now I can live my life again!"
Which Treble Health solution is right for you?
So tell, tell us really what, what did that, what did that for you looking back on it so far? And also I want to add the disclaimer that we're not saying that you're completely better, but we're honestly saying you're much better than where you were six months ago and for tinnitus and hyperacusis that message really should be shared that this is possible.
Loretta
All right. I learned a lot. I learned a lot, actually. I used the maskers. In the beginning I didn't have the maskers. What I was using was the little sound machines from Sound Oasis. And I have, have I still have them in every room or the TV is going, or the music's playing something so that I don't stay in silence. After a while I did get the maskers and I use those religiously, always using them that, and I also have a Baja, was it, which is the bone anchored hearing aid. So I used that when I was going places that I knew that I may have to still with that, I would have to add the earplugs and I actually have three different types of earplugs that I would trade off.
The thing I always remember when I would start getting really anxious because of my, my sound sensitivity was going a little crazy was whenever I, I used to call Dr. Thompson, jeeze, maybe for the week I would call, I would call. And then I would email, I would say maybe, I don't know, seven times maybe once a day complaining of, of, of something, something new or something the same that hasn't gone away or whatever. But he used to always just say, breathe. You know, that, that used to be the, the thing in his emails, you know, just breathe. And after a while I realized that, yeah, you know, you have to have to calm down, you know, you've calmed down, it helps everything. Actually, everything works a little bit better, but the sound sensitivity, I was afraid to go to the stores. If I would go into this particular store, which is Vons, it has like a deli section. And it has, I don't know if it's an air conditioner or what it is, has going just in that area. I would be afraid to go there because it was, it sounded like it was just like a tornado was coming through. So I tried to stay away from the stores. I tried to stay away from even going to just a regular shop, anything, any kind of shopping, my car, That was another thing, the noise in my car. But finally, after a while of doing what I was supposed to be doing in the first place, little by little, I started getting used to the sounds again. Gosh, I've come a long way. I've come a long way.
Ben Thompson, AuD.
You have
Loretta
Thanks to Dr. Thompson. Sorry.
Ben Thompson, AuD.
You have come a long way. And you put a lot of work into it yourself. I have a note with your permission, can I share a little note from the first time we met?
Loretta
Sure.
Ben Thompson, AuD.
I asked you, what percentage of time are you aware of your tinnitus during waking hours? And you said 80%, you said, what percentage of time are you annoyed by tinnitus? About 50%. What was the volume of your tinnitus, 6 out of 10 volume. Now for you for many months that the sound sensitivity was a bigger problem. It was affecting you, you know, in a, in a more dire way than the tinnitus, right? So that was really our first goal, and that's something that I communicated and that's something that audiologists should know is that, and patients should know, when you have bad hyperacusis and tinnitus, then we should try to treat, we should try to work on the hyperacusis first. And when that starts to have positive trends, the tinnitus will follow it. What has been your experience? You know, looking back, you developed tinnitus, February 2021. We started working together around April, 2021. So there were a few really rocky months trying to figure it out on your own. We started working together and over time has passed. What was a bigger problem for you in the first few months? Was it tinnitus or was it hyperacusis?
Loretta
Hyperacusis.
Ben Thompson, AuD.
And what kind of information, what kind of information did you find on your own? Going to the doctor, getting a hearing test, going online? What kind of information did you find about hyperacusis?
Loretta
Nothing, nothing. The doctors, of course they tell you, you just have to learn to live with it, you know, do the best you can. There's no cure for it, which I knew they don't even say, "You know what? There's some therapies out there that can help you", you know, get an, another, an audiologist who specializes in it, nothing. They just didn't do anything for it. I mean, it was, it was, it was bad. It was frustrating too. And then I would look, of course, I would look on Facebook and join groups, you know, tinnitus groups that are on there. And of course they didn't have anything good to say about it or, either. So it just made things a hundred percent worse. It's all doom and gloom. I mean, that's something that I learned after I started with you for a little while I got out of those groups, just.
Ben Thompson, AuD.
It does you learn that it affects the psychology?
Loretta
Yes, very much.
Ben Thompson, AuD.
It has an impact. It doesn't seem like it would, it doesn't seem like it would because tinnitus is a sound and getting stressed is stress or anxious is anxious, but we learned pretty quickly that it's all interrelated with tinnitus, right? Yeah. Talk to us about sound therapy, because you had a fairly unique condition with your ears that allowed us to use sound therapy, using multiple devices together. You want to talk about that?
Loretta
Like I said, within the house, I have the little sound machines in each of the rooms. And as I go into a room, either it's on, or I turn it on, I mainly try to just keep them on just in case I have to go into the rooms and I don't want to go into the silence. I have the maskers that I wear and those, those help quite a bit. That's what I generally have on. I generally have on once I go outside, I don't, I in fact, for a long time, I used to wear them in the house, but now I wear them mainly when I go out, go outside somewhere, it's either wearing the maskers, which are the hearing aids that only has just the masking sounds for the tinnitus. I do have a hearing loss on my left ear and I still put a masker on that one because I could still hear the low tones. And then I have the Baja, which is like I said, the bone anchor, a hearing device. And I wear that one because it actually attaches to, in fact, I have it on. It actually attaches to-, but that's called an abutment, that they surgically-
Ben Thompson, AuD.
A little metal post.
Loretta
Yes. And you just clip it on there and then you use your. In fact, Dr. Thompson's the one that showed me how to use it, as a masker, instead of using it as the hearing aid.
Ben Thompson, AuD.
I'm glad we got that set up because it is a fairly unique combination of you have this bone conduction piece and you have the ear level sound generators, which are not hearing aids, it's all providing sound therapy together. And through some trial and error, we found this worked for you, right.
Loretta
That's working perfectly. Yeah, it's really good. I was a little afraid of 'em in the beginning. I think you remember I was, I was afraid that it was going to, because when they, when I was using them as, as aids, when I switched over to the, the newer version, it gave me headaches. I have to remember, I was telling you, it gave me headaches. So I was afraid that using them was going to give me a headache. But thankfully it didn't, it just worked perfectly. And like I said, when I use the Baja, I use it when I'm going to go somewhere and maybe I'm going to a restaurant. And once I get inside, I realized that it's just a little bit, maybe too, a little bit too loud for me. So I still have the option of putting earplugs, you know, like I said, I have three different level kind of earplugs. So depending on how loud it is, I'll put earplugs in my ears. So I could still have the masking sound plus the earplugs. I also have this app on the phone. It's called Sound Print. That out of one of the tinnitus groups, you can turn it on and it will actually give you how loud the sound is. You know, is it, is it too loud for you to be in there without earplugs? Or is it okay? So I use, I use, I used to use that quite a bit whenever I would go somewhere.
Ben Thompson, AuD.
And where are the places that you can go now that previously you want us to stay as far away as from as possible? Because I have some notes here that the refrigerator, the washing machine, the air conditioner, and voices, the most of them don't bother you anymore. That the hyperacusis is a lot better after five months, that you can even go to restaurants or shopping sometimes without earplugs. So how does that feel to go shopping without your earplugs?
Loretta
It's so it's, it's such a great feeling. Oh my gosh. It's, I still get afraid when I go that maybe I'm going to something, I, I have this, this dread that I'm going to go somewhere. Cause I don't hardly ever wear my earplugs anymore, but then I'm going to go somewhere and somebody, not on purpose, but somebody may drop a pallet or a loud out noise is going to happen. And I'm going to, it's just going to take me back again because of the sound. But little by little, that's kind of going away. I could even go, oh, that was another thing. Like the lawnmowers and the blowers that they use outside and all the power cells and whatever they used to bother me too. And now I can pass by one without it really affecting me, except for my ment- Sometimes mentally I'm thinking is it going to bother me, but it really doesn't. And I would say I'm maybe 70-75% better with everything.
The little things that do still bother me is more like if I had a paper bag and somebody squishes, you know, the noise that it makes, that bothers me a little bit. Every once in a while, washing dishes, you know, if you hit the utensils together, every once in a while that will bother me. Or, or something that's really strange is when I go somewhere and I hear somebody's voice, some of the voices bother me. And I don't know, I don't know exactly what the problem is there, but, but those are those I think are the main things that I'm still trying to get over. You know? And, and the, the other thing is when I, my anxiety is high, my own voice. If I'm talking and I'm using like Ss or the Cs or Ts those sounds have a weird sound to them, to, you know
Ben Thompson, AuD.
You shared that you've gotten 70-75% better with the hyperacusis and the tinnitus in a six month period, is that right?
Loretta
You know, that the tinnitus didn't really, well in the beginning, the tinnitus was my problem, but once I got the sound sensitivity, it was like, the tinnitus took a back seat. I don't know whether once the sound sensitivity is, is maybe at 80 or 85 or 90% that the tinnitus won't come in and start bothering me. But it seems to me that both of them have actually gotten better. The tinnitus is not lower. Not yet. I keep, I keep hoping and praying that it will get, but I guess, going along with the masking, it seems to have helped me already with the tinnitus and habituating a little bit, not a hundred percent, not a hundred percent by any means, but a lot.
Ben Thompson, AuD.
Good. And I'm going to read off the tool kit that we had mentioned, sound generators, nutrition, walking, exercise, sleep management, meditation, and then our counseling, professional counseling. In your opinion, what are the most important pieces of your toolkit that have helped you?
Loretta
Sound therapy. Oh, first off you guys, the therapist, and then the sound therapy. I think the other ones all play a part in it. I think the exercise when I finally started with exercise more though, more so than just walking, cause I used to walk all the time, but once I started back at the gym and doing a little bit more, it was better. And in the beginning, like the nutrition, anytime I would eat or exercise or do most anything, my tinnitus would go up and I, I have a feeling I'm not sure, maybe you can tell me, but after, after a while, when I would eat and exercise, it would go up, but it didn't bother me anymore. I don't know if that was part of habituation or, or maybe I was just so full of anxiety of, of the fact that I knew that when I ate it was going to bother me or I knew when I exercised it was going to bother me. And now that now it doesn't so much anymore.
Ben Thompson, AuD.
Probably some combination of the two, one thing I wanted to ask you because it's an important point here is that hyperacusis sound sensitivity, it's not only in the mind. It's not a fear of sounds when you're hearing a loud sound, or as you said earlier, even the sound of a refrigerator or an air conditioner, that it would be too loud and it would cause a serious reaction. So there's a difference between psychological fear of loud sounds and then the physiological body's reaction to loud sounds. What did you learn over time in your own journey about that difference?
Loretta
Well, in the beginning, I knew it was, I knew it was, it was, I, you know, I, I'm not really sure. I just, I just know that it was, it used to bother me. And, and the fact that it used to bother me, used to scare me all the time too. But the more I listened to it, the more that I used to just tell myself, you know, it's fine. It's, it's just the refrigerator or it's just the air conditioner or whatever. It would calm me down. It started to calm me down. And I don't know if that was your question. I don't know if I'm answering your question or not, but.
Ben Thompson, AuD.
Yeah, it's twofold, I think it's twofold that when loud sound or any sound triggers this response, the body tries to protect itself. We try to protect ourselves by distancing ourselves from all sounds. That can be a slippery slope leading to too much earplug use. I don't want to hear any sounds. I want to be in the quietest place possible that can be in to some degree, digging us deeper into a hole, and we have to recognize, okay, I don't want to go deeper into that hole. It's not easy, but I'm going to try to tolerate and adapt and be around these sounds. And then we layer sound therapy on top of that, and it helps long-term it really helps. So yeah, I'm happy we can share your story. And this is a six month check-in. I hope to have another conversation like this in six months and share it so that other people can listen and benefit. And hear another positive tinnitus story. This one with hyperacusis because it's not every patient with tinnitus has hyperacusis, about a third of tinnitus patients have hyperacusis and even less than that for them, it's their main problem. So I'm really happy to showcase this story of using sound therapy, using holistic approach, meditation, professional counseling, TRT, all of it, and how it's helping you some again. Thank you, Loretta, for coming and sharing your story. Would you have anything that you want to say?
Loretta
Just do what they tell you to do, take all the advice that you can and don't look online for answers because it's going to make it worse. And like, like, yeah.
Ben Thompson, AuD.
Thank you, Loretta
Loretta
Yeah, thank you. Thank you very much.
Ben Thompson, AuD.
Thank you so much. And for anyone who's listening, make sure to check out the other podcast episodes. Thank you so much. Bye.