Ben Thompson, AuD.
Hello everyone, tinnitus community. This is Dr. Ben Thompson for another episode of the Treble Health Podcast. Today we are with Mike and I want you to watch this whole episode If you're someone who is living with tinnitus, looking for ways to manage it. Mike has successfully implemented a comprehensive toolkit to manage tinnitus, and after a period of time, between a month and over a year, he has significantly changed the impact of his tinnitus in his life and is now living an amazing life. So Mike, I want to introduce yourself, please introduce yourself and tell us some story of how your tinnitus began, what was going on. I'd love to share your story, let's get into it.
Mike
Yes hi, I'm Mike and developed tinnitus probably about five years ago and had habituated to it. At least I believe I had habituated to it. And so essentially what happened as Dr. Ben mentioned about last March, I had a significant spike in it and it became a lot more noticeable to me.
"Treble Health helped me reduce my tinnitus by about 80%, and now I can live my life again!"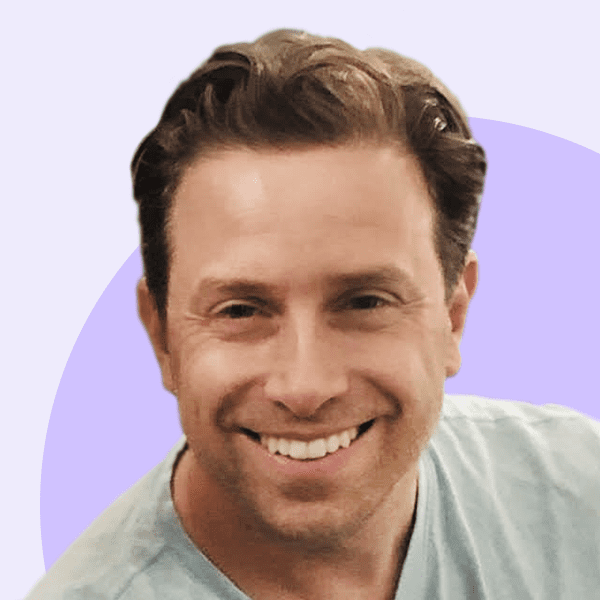 "Treble Health helped me reduce my tinnitus by about 80%, and now I can live my life again!"
Which Treble Health solution is right for you?
And so with that, I found that the level of anxiety, or my level of focus on it became a lot more intense to the point where it became difficult even to do my work. I was working from home because of the COVID situation. But even that.
Ben Thompson, AuD.
What do you do for work Mike?
Mike
I'm an accountant and an auditor. So I do auditing for the city here, I live in Canada, for my local town here. And so I was saying, I became much difficult to work and I was focused on it a significant amount of time. Now, like I mentioned, I had tinnitus before, and I'd gotten habituated to it, but I felt I was hearing it much more. So a much more significant spike, which actually increased my anxiety.
Ben Thompson, AuD.
And Mike, I wanted to highlight that you're working in a job that requires detail and focus. The one who's supposed to catch all of the fine details. You're the one who's supposed to make sure everything is in order and concentration therefore is a big part of your job. Having to concentrate is huge. How did that spike of tinnitus that's affecting you, how did that affect your concentration at work? And was that overwhelming? Did you have to take time off of work? How did that go?
Mike
Yeah, you're absolutely right. It's a job that you need to be focused on. There's a lot of detail that you need to go through and a lot of interaction with people. It's interesting. I am an auditor and I recognize that, a lot of people don't like being audited, and so setting people at ease and having them understand that we're there to help where we can. And as you mentioned, focus is very important in that work and it became difficult. I was able to take a little bit of time off, but it was a point in the history of the world, I guess, where we were going through a global pandemic. And it was really all hands on deck. So that just added, I guess, to the level of anxiety. Where you knew you had to get up and be focused and do the work. And it became very, very difficult at that point in time. I felt what helped, just before I met you. So I felt what helped at the time was sort of to get all, some of the worries out of the way. And what I mean by that is to say, is this really like a life threatening situation, where there's something wrong over and above just the tinnitus? Right, and so I found what helped me was I was able to get an appointment relatively quickly for an MRI and an appointment with my doctor. And they confirmed to me that it wasn't something that was life threatening. You know, the MRI basically came that clear. And I thought that that was important for me to say, okay, so I can move on to the next thing, it's not necessarily a life threatening situation from that perspective, but still the anxiety was there. I also went for a hearing test and I found that I did have hearing loss. I went to an audiologist and basically a link was established between hearing loss and tinnitus, especially as you get older. And that again reassured me that there was a link, I wasn't alone in the world, you know? Wasn't some unique situation.
Ben Thompson, AuD.
I want to jump in here, I want to jump in here, Mike. So I'm an audiologist myself. I'm a big proponent of audiologists. We are the experts in hearing loss and tinnitus. That is our specialty, at Treble Health, we have a team of audiologists, so we're always trying to learn more, share more, educate better, provide better treatment, and better diagnosis. And what you shared is true, that there is a link between progressive, age-related hearing loss and tinnitus. Now, the interesting thing to bring up is that your hearing has been slowly changing progressively over time, but your tinnitus seemingly out of nowhere, really spiked up.
Mike
Yeah.
Ben Thompson, AuD.
So it's not a one to one correlation because for you, if your tinnitus got so much worse, one might think, well, maybe you lost your hearing. Did I lose my hearing suddenly because I developed sudden tinnitus? But that's not normally the case. Very rarely does that happen. A hearing test can establish, what is your baseline of hearing? And I like to subjectively ask patients, and I'll ask you right now, when your tinnitus started, did you feel like your hearing also got worse or no, it was just the tinnitus?
Mike
No, I don't feel my hearing got worse. I got a little bit more sensitive when the tinnitus spiked to sounds, I think it's hyperacusis, it's called.
Ben Thompson, AuD.
Correct.
Mike
So I noticed that from my hearing perspective, but as far as my hearing getting worse, like from one week to another, let's put it this way. I hadn't noticed that. The hearing test was interesting because it did find hearing loss. And that was interesting to me.
Ben Thompson, AuD.
What did you do with that information? Did you try any treatment for hearing loss and tinnitus with technology?
Mike
Yes, so basically the audiologist recommended, and I should say that this local audiologist had a lot of tinnitus patients. And so she mentioned that that's actually a significant part of her practice. So what they recommended were hearing aids with sound therapy incorporated into them, which I'm wearing right now.
Ben Thompson, AuD.
Can you show us on your ear?
Mike
Yeah.
Ben Thompson, AuD.
For those of us watching on YouTube, can you show us on your ear?
Mike
Yeah, I can actually take one out if that helps.
Ben Thompson, AuD.
Thank you.
Mike
That's what hearing aid looks like. And it's interesting because I always say that it's actually related to retraining. And what I mean by that or habituation, is that often I'll have go like this over my ear, just to remember that they're even there. At first, obviously that wasn't the situation. I felt like there was always something around my ear, which is normal, but I found that eventually, like now many times I touch my ear, because it makes it a little sound when you do that. And I notice that they're there. Otherwise I don't even know that they're there. And as we started to work together, I think what that brought in is sound therapy without even having worry about like having sound in the background all the time, which does help having sound in the background or having the TV going or music going. They're going automatically and I can set them, they're Bluetooth enabled. So I can them basically at the level that I'd like, and they're on. And I found that that was a significant help.
Ben Thompson, AuD.
It's something that our audiology team at Treble definitely believe in. It's something that we see helping most of our patients, when we think about what are the ways to manage tinnitus, what are the ways to promote habituation? Which means allowing your brain to defocus and reduce the perception over time. Some of the best tools include hearing aids. Whether you have hearing loss or not, technology on the ears that is designed for tinnitus is one of the tools that work for a majority of people. And with a symptom that does not have a cure, with a symptom that can be managed very well, sometimes it feels like there's not any tools that we can use. And my advice, my message here related to your case, Mike, for anyone listening, is that try the tools that do work for most people and really give it your full effort before writing them off, because it it's all too common that someone never even tries your level sound therapy, yet they're struggling with tinnitus for many months. So you did try it and you did find success with it. Tell us about your journey from March, 2021 until now about 10 months later, when we're recording this video, please share with us what changed with your tinnitus level, just at a high level, did you go from a seven out of 10 to a five out of 10 in terms of volume and then how did your awareness change? How much have you habituated during this period?
Mike
Yeah, so I like to think of it like, and maybe I'm wrong, but I like to think of it like the tinnitus never goes away, like the level, but your perception of it goes away, right. And maybe I'm wrong, but that's sort of the way I think of it in the sense that I'm not aware of it anywhere near the time that I used to be. So I would say around 80 to 90% of the time at the worst case, I was aware of the tinnitus. And by aware, I mean I was focused on it. I couldn't really concentrate on anything else, but that, right.
Ben Thompson, AuD.
It was a very big problem.
Mike
It was a very big problem, to the point now where I can still hear the tinnitus. If I take my hearing aids off. And if I stop and listen, I can hear it. So it's still there and I don't expect it to go away, but I'm not aware of it. So it's a lot like the hearing aids, the hearing aids are on my ear now. but I don't even know they're there, like my glasses. I know my glasses are there because I can see, but I don't feel them on my face. And I feel the tinnitus is exactly that, so habituation to me is that it's there, but you're not aware of it. So my glasses are there, but I'm not aware that they're on my face. My ear aids are on, I'm not aware that they're near my ears and the tinnitus is there, but I'm not really focused on it. So it's just become a sound that if I really listen, if I really focus and try to listen, then I can hear it. Otherwise, it doesn't bother me. So if we talked about percentages, I went from a 80, 90% focus to maybe a 10 or 20%, if that focus on it.
Ben Thompson, AuD.
Yeah, that's an excellent explanation. And you certainly have habituated to a real degree. 10 months in, there are still improvements that can be seen over the next six to 12 months in most cases. It's important to note that myself other audiologists, we put timelines out there, six to 18 months. Most people habituate, right? That's not a definite hard stop at 18 months. And some people have that happen faster than six months, but it is a good timeframe just for the average person to reference, and in that reference, Mike, I want you to still be working on this for the next six months, which I know you have been from us chatting earlier. So how have you been working on the comprehensive approach to managing tinnitus? Because if you just use devices on your ears for sound therapy, yes, it would help. Research shows it helps, but there's so much more that can be done that can excel the progress. What else have you done and how has your commitment been to that?
Mike
Yeah, so at the point where I'd seen the audiologist, I saw a ear, nose and throat specialist here in my local community. I still wasn't satisfied, I didn't feel that there was a systematic retraining process that I could go through. You know, they basically said you'll need to habituate and off you go. And so when I started seeing some of your videos on YouTube, I felt that there was a more holistic approach that you had in retraining. So a physical and a mental approach, right. And I think in combination, as you said earlier, you give things a try and you see how they work. So I like that holistic, you know, approach of a physical and mental approach to a problem. I solve like a problem that needed to be solved. So as far as what I was able to do from an external perspective, in terms of like sound therapy, I adopted your recommendations around that. I got a sound machine for the evening and night when I couldn't sleep. I don't use that anymore because I'm beyond that, thankfully, but it did help at the time when you're wanting to go to bed and you're hearing this noise in your ears, also what helped as you suggested, is an approach to going to bed. I used to watch, I used to work very late then watch TV or be on my computer till the very moment that it was time to go to bed. And then I went to bed, right. And of course all that activity going on in your mind, just translates to not being able to get to sleep to sleep and having insomnia. And so basically what I did as you suggested, is about an hour before going to bed, and I still do. I would meditate or read, or just sort of wind down before just hitting the bed and then staying awake for hours on end. So that significantly helped. I also improved my diet and I've lost a significant amount of weight. So I think that really helped. And I did try some yoga, but what I found was best for me was Tai Chi and Qigong. So I continued to do that. I joined a club here in my town, and I practice three times a week. So I think that gets you focused more on your body. And it gets you out of your own head in many ways, and similar to what meditation does. So I think that combination sort of, as you mentioned, the holistic approach really helped. A mistake that I did do at the big beginning. And I'm glad I spoke to you about that, was that I went on the internet and I was looking at anything and everything that you can possibly think of in terms of tinnitus, if there was tinnitus in the name, I would look at it, and a lot of this stuff is great. This is the way I found you, but also a lot of this stuff out there is really depressing. And if this does anything, it's say that there is hope out there. There's hope of coping with this and there's a world beyond tinnitus for sure. But if you look at some of those videos, and there are some sad stories out there, I think it just gets you even more unfocused on it and it actually hurts more than helps. So that would be my advice.
Ben Thompson, AuD.
Excellent, excellent. And sometimes people ask us, Dr. Ben, what do you do in the Telehealth sessions? Right, yeah, I'm interested in working with your team, but what happens? What do you do in these Telehealth sessions? What do you talk about? Well, everything that you just shared is exactly our main focus, education, creating a comprehensive toolkit, tweaking that, adjusting it and improving it over time and checking in for that emotional support along the way. What did you get out of our sessions, as we worked together over a period of six months?
Mike
Yeah, I think it was, well there were lots of things, but two main ones I would say, the first one is being able to speak to someone who's seen this before, right. Like I said, I went to some professionals here and they said, well, you know, there's really not much you can do. It's just something that you have to deal with. And that's really disheartening, having a plan, and then being able to follow up with someone who deals with this on a daily basis was extremely helpful. Just speaking to people. The second part is sharing with other patients that you have. I'll say this, especially during COVID times where it's getting a little bit better. I don't know how it is in the states, but in Canada, it's still pretty tight here, in terms of getting out. But especially times when you're isolated in your home and there's no noise and the house is really quiet, and you have no one to speak to, right. I think that just exacerbated the situation where you're basically isolated with this condition. And I think being able to speak to someone and to others and to a group of people, I think really helps. And it helps you understand that there's a method that can definitely work in making you better and that hopelessness is gone, right. And I think that's what you provide. So thank you.
Ben Thompson, AuD.
Excellent, you're so welcome. And when we started working together, it was under my company named Pure Tinnitus, that has transitioned Treble Health, and we still provide Telehealth sessions, Telehealth consultations, typically on a monthly or biweekly basis. And we also provide the group coaching for anyone who's in an active subscription plan with us. So still what you shared are still the fundamentals of what we offer for the tinnitus community. And one of my roles as the CEO, as the company founder and owner, is to get the best qualified audiologists. People who have more experience than me, to provide the Telehealth appointments, to provide the counseling and to be involved with your care. So that even if you who live in a small town, you may have seen the best doctors in your local area. Well, one of my personal goals is to try to connect you, who wants to see the best doctor available, via telehealth, via technology, to speak with someone who has worked at a major hospital in New York City or Los Angeles, us or San Francisco or someone else who has a lot of experience with that. So this has been another amazing episode of the Treble Health Podcast here with Mike, who so openly shared his story. Thank you, Mike, I'll leave the last words here for you. And again, thank you for sharing your story and your time.
Mike
Yeah, thank you so much. I just want to say to anybody who's watching, there's certainly hope in getting better and a systematic approach to retraining I think will really help.
Ben Thompson, AuD.
Thank you everyone, and we'll talk to you soon. Bye bye.